Someone sent me a link to a pretty sweet gift idea the other day (it's #1 on the list below), and it got me wondering what other kinds of "money" related stuff could be out there too?  Besides all those manly piggy banks I've already found, of course ;)
I Googled and Amazoned, and here were my favorite 7 I found – what do you think?
1) Framed Stock Certificate ($100+ @ OneShare.com)

How awesome is THAT gift? Who wouldn't want an investment that you can also hang on your wall? You get a real stock! :) Kinda like I gave to my boy Nate last Christmas, a share of the Green Bay Packers. Only his isn't worth squat, other than bragging rights ;)
2) Stimulus Package Gift Basket ($24 @ Amazon.com)

The blurb on Amazon says it best: "Send someone our newest gift basket, the Stimulus Bill Gift Basket. Who doesn't want to be bailed out… You can't spend it, but at least you can enjoy eating it! Help the economy, keep spending and send some chocolate money to your friends and family." Hah!
3) Money Learning Placemat ($4.99 @ Amazon.com)

I'm TOTALLY getting this one for Baby $ when he's old enough to read/see/talk. So COOL!!! There were some others on Amazon too which were pretty sweet looking, but probably for older kids like this counting money one. We used to have a 50 states mat ourselves growing up and it made learning so fun – I can't wait to share these with the kiddo(s) ;)
4) Bonsai Money Tree ($11.99 @ Amazon.com)

And they say money doesn't grow on trees! (Bah dum-ching) Seriously though, did you even *know* about these money trees?? I first came across them when planning our home garden the other month (there's "normal" money trees too that aren't bonsai), but they required more work than I wanted to put in. Like watering and staying away from bad weather ;) But they would be cool to have for sure… esp. this mini one.
5) Plush Money Dog Toy ($12 @ Amazon.com)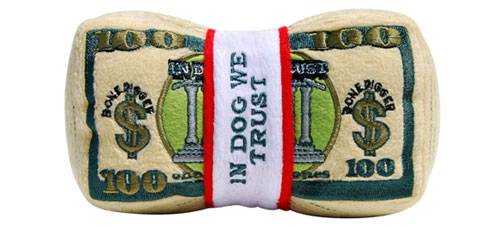 My favorite part is what's written around the dollar signs on either side: "Bone Digger," haha… Get it? Instead of GOLD digger? Clever clever ;)
6) iPhone Money & Credit Card Case ($39.99 @ Amazon.com)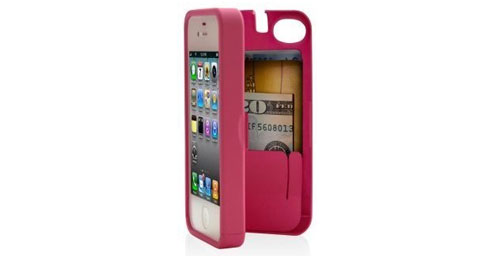 Now that's a phone you don't wanna lose! A case which stores cash AND credit cards, and also makes for a good phone stand too for viewing pictures and blaring music… They also have the same version in black too, for all those not comfortable rockin' pink :)
7) Money Toilet Paper Roll! ($5.25 @ Amazon.com)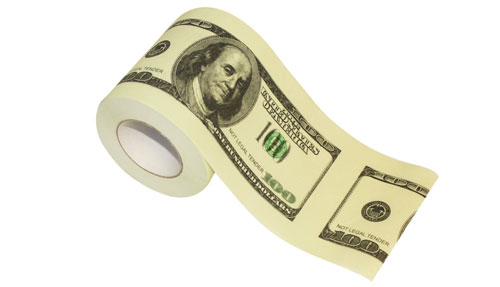 Hahaha…. This is by far my favorite.  Cheap enough to stock up on and give as stocking stuffers/gag gifts, but awesome enough to actually use too – at least in my blogger office ;) I don't know what screams financial blogger more than dollar bill toilet paper?! Maybe I'll even sneak it in our master bedroom and see what the Mrs. says, haha… I hope she's not reading this right now.
Here were the three runner ups:
Gold Bar Door Stop @ $23.99
Money to Burn Candle @ $10.12
Money Soap @ $11.85
I hope you enjoyed today's list! It's 2.5 hours of searching around I'll never get back ;) If I missed any others you know about, though, let me know… maybe I'll put together a round two when I don't feel like doing any "real" work again, haha… to capitalism!
-J$
———–
PS: Here's the list for the best hidden safes I've found in the past too, along with those manly banks.
PPS: And the best financial products I've seen and use myself – in case you're looking for something actually valuable today ;)
(Visited 19 times, 1 visits today)
Get blog posts automatically emailed to you!