Awww yeahhhhhh! Go Baby $ Go Baby $ Go! Or is he Baby J. now? I dunno… Either way, he's a baby with over $3,000 to his name now! ;) He just opened up his first two financial accounts and I can tell by the way he's looking at me now that he's feeling pretty good about it, haha…
1st Account: Savings –
$605.01
We had been collecting a few checks that people have sent over when he was born, and it only recently occurred to me that we couldn't cash them! We have no accounts with the baby's name on it, haha… Oops. It never crossed my mind until I sat down to deposit them (which is kinda weird, really). But we cleared that up real fast with a quick call to USAA, naturally, and 3 minutes later he had his first official account – Woohoo!
$350 of it came from my winnings of Ramit's $1,000 Giveaway the other month (I was going to put it into Baby J's college account, but decided to *match* it instead. Something I'm thinking of doing in the future when he's old enough to start being taught about money :)), and the rest from friends and family. Not too bad for a 4-month old! That's more than a lot of people keep in savings unfortunately :(
2nd Account: A College Savings 529 Plan –
$2,500.00
I finally decided to make a decision one way or the other with saving for his college, and we went with our state's 529 plan because they allow you to deduct up to $2,500 a year of what you put in! Which is FREE money right off the bat – making our decision much easier in the end :)
I had originally thought we'd just open one up with USAA so I could have everything in one spot which I thoroughly enjoy, but it turns out you have to do it with whatever financial institution the State has set it up with. Which unfortunately is not USAA… But that's fine, the money saved with taxes totally makes up for it. At least for as long as we live here (once/if we move, I'll then see what *that* state offers and if it's equally good I'll just roll it all over into a new one with them. And if it sucks, I'll then go with USAA until/if w move again… No point in throwing away free and EASY money, right?)
And then once we decided on opening the account, it was hard of course to *only* put in the $350 I  had initially set aside for it (that same one from Ramit's Giveaway I won), so we just said "F it" and poured the full $2,500 into it so that we can max out those tax benefits for the 2012 year. It's just SO HARD to pass up deals like that! Especially since we have the money sitting there in our Savings just doing nothing… It would be a different story if we didn't have those reserves and another great reminder of how cash gives you OPTIONS later! It may sit there waiting for opportunities for a little time, but then when you're ready to move you can just jump right in and work it :)
So Baby Money starts his life out with a few grand to his name! We'll probably end up doing automatic deposits of $200/mo starting in 2013 to hit our $2,500 goal going forward as well. It's not the $400/mo or so that "professionals" recommend (ya know, cuz college will be like $3 Billion dollars for everyone then), but it's a good enough start for now… Maybe we'll get lucky and our investments will return 15%+ a year to make up for it ;)
Oh, and speaking of which, I just chose one of those Target Date funds for now where all the money will be going… I thought of picking one of the more aggressive stocks-only plans, but I know the wife would worry about it too much so we're going the more safer route instead ;) Only time will tell if it worked! (And we can change it once a year if we decide to too, which is nice)
Now a question for you: Should we include this in *our* Net Worth updates going forward? Or no?
I know this post is all about the baby having his own net worth and all that, haha, but I'm wondering if it makes sense to still keep it in ours instead? Since really it's our money that's allocated to him for later use? (Except for gifts that were directly for him, of course)
I guess it wouldn't be the end of the world to start tacking two net worths going forward, but I just can't tell which side makes the most sense anymore… I mean, if  he never uses the college money for whatever reason, wouldn't it still be OURS? To either give to someone else or cash in and take the penalty hits? My brain hurts from thinking about it… Curious to see what YOU would do.
Thanks guys! All uncharted territory for us.
————-
In other news: I still need to update our baby's money tracker for the last couple of months. Sorry to all those asking me about it! Turns out it's a lot harder to stay on top of than I thought :( At least right now while I'm a stay-at-home dad two days a week, but I'll try and be better about it! It really is one of my favorite "trackers" I've done in a while…
(Visited 13 times, 1 visits today)
**********
PS:
If you're just getting started in your journey, here are a few good resources to help track your money. Doesn't matter which route you go, just that it ends up sticking!
If you're not a spreadsheet guy like me and prefer something more automated (which is fine, whatever gets you to take action!), you can try your hand with a free Personal Capital account instead.
Personal Capital is a cool tool that connects with your bank & investment accounts to give you an automated way to track your net worth. You'll get a crystal clear picture of how your spending and investments affect your financial goals (early retirement?), and it's super easy to use.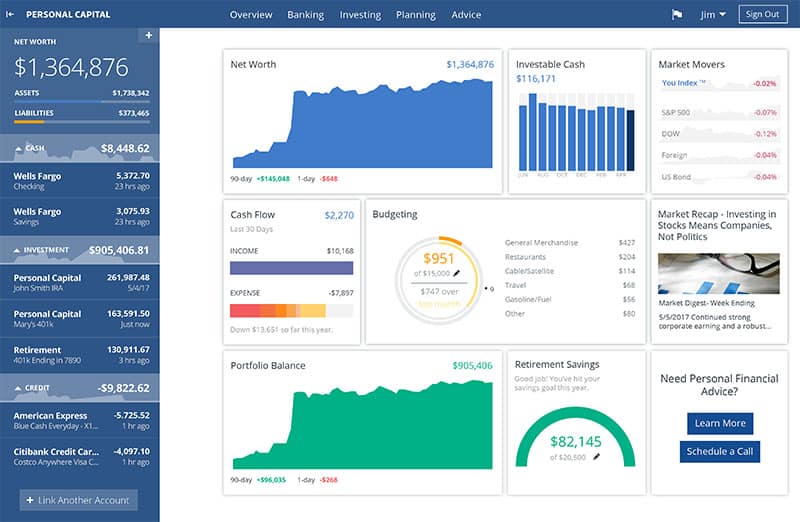 It only takes a couple minutes to set up and you can grab your free account here. They also do a lot of other cool stuff as well which my early retired friend Justin covers in our full review of Personal Capital - check it out here: Why I Use Personal Capital Almost Every Single Day.
(There's also Mint.com too btw which is also free and automated, but its more focused on day-to-day budgeting rather than long-term net worth building)
Get blog posts automatically emailed to you!