Hey guys!
Ever wanted to see a live stream of alllllllllllll the financial blog posts being published in our community? Check this out: http://directory.rockstarfinance.com/feeds
We just launched it last week, and it tracks every article published in the last 24 hours from our entire database of personal finance blogs we're tracking – now at 1,004 (!!). (When we launched the directory three months ago we were at 658!)
So now there's never an excuse about not finding something to read ;) And it auto-updates every hour, on the hour, too so you always have the latest stuff available.
(We also kept the same sorting functionality of the main directory so you can drill down to just see what early retirement blogs are writing about, or the debt bloggers, or even if you want to search for something specific like "saving" (4 articles currently) or "Miley Cyrus" (0 articles unfortunately).
I've been watching the flow over the month since we started building it, and it seems on the weekends the community publishes about 60-80 new articles a day, and then during the work week anywhere from 125-250 articles a day.
So on average, about 1,000 new articles on money every single week!
Pretty wild.
If you pay close attention too, you also catch trends here and there. Like how certain times of the month bloggers talk numbers and net worth more (first week of the month), or how when it gets closer to the weekend people shift to frugality and saving and more lifestyle related items. Which actually inspired today's main topic that we should probably finally get to :)
On Friday I was checking the feeds for my daily curating for Rockstar Finance (another great place to find awesome blogs btw, since the only stuff we share there are the plucked-out gems!) and I kept noticing bloggers talk about "5 frugal things" left and right.
At first I thought it was a coincidence, but after seeing my 5th and 6th article I realized it was some sort of financial meme going around. Here's a few of them to show you what I mean:
Back when I first started blogging we were ALWAYYYYYYS doing fun memes together, but somewhere over the years either they died out or I stopped getting invited to them :(
So today I thought I'd crash the party and feel young again ;) And if you wanted to join in too, even better! We'll all learn from each other!
I'll go first…
5 Frugal Things I've Done Recently
#1) I cut my own hair. Doesn't get cheaper than wielding your own electric shaver! I trim up my 'hawk once every two weeks, and while I do goof up here and there it's been quite the money – and time – saver. (We also cut our boys' hair too)
#2) I've eaten all my breakfasts and lunches and dinners at home. Another thing that's great for the wallet, however I can't say the same for my social life – womp womp… Maybe I'll get like 10 invites this week and totally negate the savings ;)
#3) We threw our 3 year old's birthday party at a park (for free). Do you know how much people pay to throw their kids a party?? It's crazy! We went to one the other month that I swear had to at least cost $400-$500. I honestly don't think kids care (or notice) either, so long as they a) get to run around and play, and b) (a biggie) get to bring home a cheap goodie bag in the end ;) They go ga-ga for those things!
#4) Sold some of my coins to help fund the purchase of more coins! Nothing like a hobby that helps support itself, eh? (Shameless plug: visit CoinThrill.com and say hi so it forces me to blog more about coin collecting! It's been months!)
#5) And lastly, I finally got to put my vintage card idea to use. If you recall, I found a box of old cards I had made for my parents as a kid while decluttering our basement, and I thought they would not only make a good gift idea for future holidays, but also save myself a few bucks in the process.
Well, my mother had her birthday recently and I had the pleasure of watching her face as she opened it up (again) now 30+ years later by her now 30+ year older son :) To say she was overjoyed was an understatement. I can't remember the last time she teared up from a card I've given her, probably because Hallmark cards don't have the same effect!
Here was the card I gave her: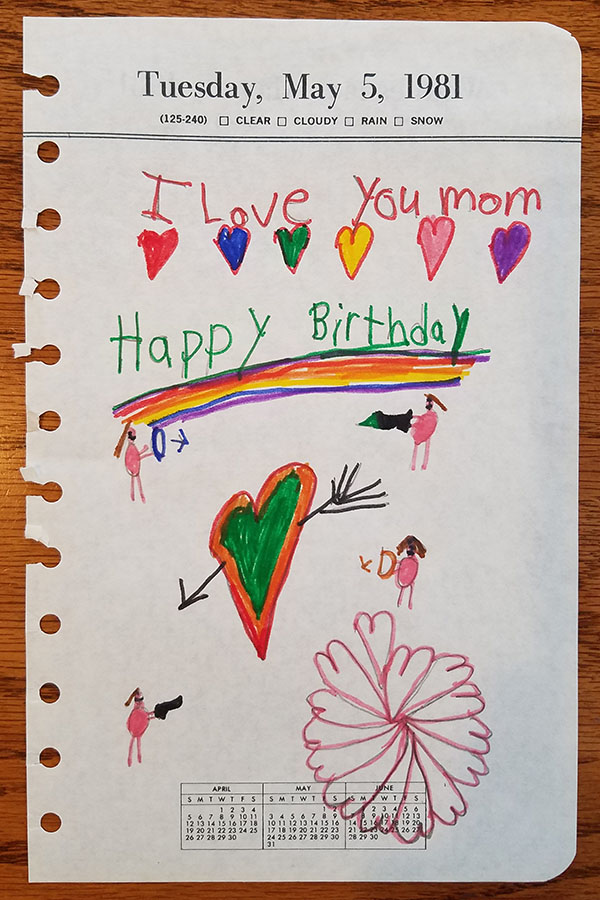 (Luckily she didn't ask me about all the weapons!)
Alright, your turn :) Share your own frugal wins and let's see what other tricks we can learn!
When you're done, click on over to our new Blogger Feeds and check out what others are writing about too. I have a feeling this is only the beginning of what we're going to learn from connecting everything in one spot here. My ultimate goal! To make it stupidly easy for anyone to learn about money any time they wish.
Sometimes you gotta kiss a few frogs to finally find the one that inspires you, right? Not everyone thinks budgets are sexy, to my dismay ;)
(Visited 5 times, 1 visits today)
Get blog posts automatically emailed to you!