[This is a guest post by Hank Coleman]
It is the first of the month, and you know what that means. Good old, J Money, has published how much his net worth has shot up over the course of the past month. He is up $4,000 this month which is not even close to his usual increases ($6k-$10k). He's maxed out his 401(k) plan at work, and now he has totally maxed out his Roth IRA to boot.
But, to tell you the honest truth, I can't stand J Money's net worth updates. They make me sick! Don't get me wrong. I want J and Mrs. J to be successful and financially sound, but sometimes I get depressed when I hear how well he is doing compared with how poorly I'm doing saving for my own financial goals and retirement.
Net Worth Is A Game
A lot of people will not like it when I say this, but saving money and investing is a game. It is a game just like football. And, like Vince Lombardi said, winning isn't everything, it's the only things. Building your net worth is a game, and money is the scorecard. It sucks that it has to be that way, but life is that way. And, anyone who thinks differently is delusional. Net worth is a game, and I hate losing. That is why I hate when J Money publishes his net worth figures every month. I'm losing.
J Money Is A Great Motivator
You should compare your net worth to other people in your age group, salary level, and job tenure. J Money wrote about the importance of tracking how your 401(k) balance stacks up against other people a few months ago. While I do not like to lose, I cannot negate the fact that J Money motivates me to try harder, invest more, watch my spending with a budget, etc. I have not maxed out my 401(k) plan at work yet. I have trouble coming up with the $16,500 per year or $1,375 per month, but I continue to raise my 401(k) contribution level by at least 1% every time I get a raise. If I don't, then there is no way that I will ever catch up to J Money.
Everyone Should Track Their Net Worth
According to a survey conducted by the Consumer Federation of America (CFA) and the Financial Planning Association, less than 49% of Americans actually know their net worth. Everyone should track their net worth. Tracking your net worth lets you see where you stand financially and how healthy your family's financial situation is. Are you meeting your financial goals and dreams? Are you headed in the right direction or sliding backwards? Do you need to catch up to J Money and max out your Roth IRAs and 401(k)? How do you know if you are saving enough for retirement if you do not know how much your net worth is?
See where you stack up to your peers with this great net worth calculator sponsored by CNNMoney.com and Nielsen Claritas. Sometimes there is no greater motivator than taking stock of your own situation against your peers and others like J Money. While I cannot stand it when he tells us all how great he is doing, it motivates me nonetheless to try and up my financial game and beat him. One day I will, but until then, I'm definitely going to keep trying to raise my net worth.
———————
Hank Coleman is the founder of several personal finance blogs. He is currently a freelance writer and entrepreneur. You can see more of his work at Hank Coleman.net, and you can also follow him on Twitter @hankcoleman.
(Photo by borman818, exclamations by me!)
(Visited 4 times, 1 visits today)
**********
PS:
If you're just getting started in your journey, here are a few good resources to help track your money. Doesn't matter which route you go, just that it ends up sticking!
If you're not a spreadsheet guy like me and prefer something more automated (which is fine, whatever gets you to take action!), you can try your hand with a free Personal Capital account instead.
Personal Capital is a cool tool that connects with your bank & investment accounts to give you an automated way to track your net worth. You'll get a crystal clear picture of how your spending and investments affect your financial goals (early retirement?), and it's super easy to use.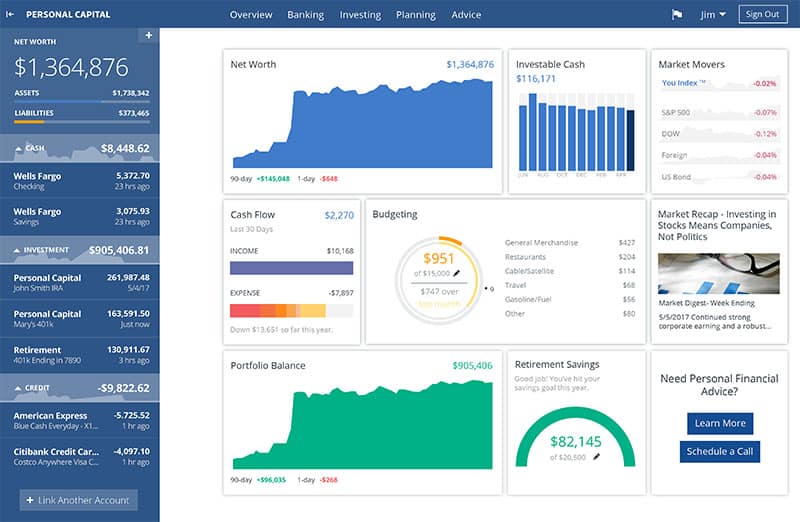 It only takes a couple minutes to set up and you can grab your free account here. They also do a lot of other cool stuff as well which my early retired friend Justin covers in our full review of Personal Capital - check it out here: Why I Use Personal Capital Almost Every Single Day.
(There's also Mint.com too btw which is also free and automated, but its more focused on day-to-day budgeting rather than long-term net worth building)
Get blog posts automatically emailed to you!