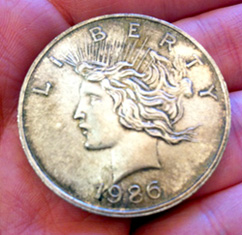 I woke up this morning feeling pretty bad about something. You're going to laugh your a$$ off when I tell you what it is, but I really can't help what pops in my head ;)  You just never know what you're gonna get with that brain of mine sometimes! Haha…  Okay, so here's what came to mind just a little bit ago:
"I think I ripped that girl off at the yard sale last year"
Haha… WHAT?  Why am I just NOW thinking about that? :) And why didn't it come to me DURING that yard sale last year? I have no idea, but let me give you the quick scoop so I can get y'alls thoughts on it.
Last year when we were traveling around Seattle and parts of Victoria, BC (where I fell in love with my house boats!) we had a couple hours to kill so we decided to go yard sale'ing.  We've been doing this since I was just a wee little kid, and any chance we have to do it together again as a family we jump on it ;) At one of these sales I came across this little bag of weird lookin' (fake) coins that had a sticker of only like 25 cents on it or something.  I don't know why I picked it up in the first place, but the second I put it down I noticed that it had a much heavier, cooler, lookin' coin hangin' out at the bottom of the bag.
So I took it out, and after a few seconds of looking it over I realized that this was a) not a very fake coin at all, actually, and b) was most DEF worth more than 25 cents!  I didn't know exactly how much at the time, but I knew I had my iPhone in the car and could find out in about 2.3 seconds.  And this is where my feeling bad comes in – only to fester for 8 months apparently, and then have me wake up in the morning to it :) These were the next few thoughts outta my head:
Pretend you didn't know you just came across something valuable  (which would have been a lot easier had I not picked it out and yelled "Mom!  Look at this!")
Hurry up and pay for it so you can hightail it outta there!
And lastly, make sure to pay MORE than 25 cents for it.
That last part was me justifying the sale so I wouldn't feel *as* bad later ;) I think I ended up giving her a dollar. Which, interestingly enough, was exactly what I had found – a 1 troy ounce of silver, otherwise known as a silver dollar!  (That exact one I found is pictured above)
Now, it wasn't worth as much as I had thought it was gonna be (I was hoping for $50-$80 since it was 25 years old and looked "antique-like" haha), but it is valued anywhere from $13-$20, depending on what silver's going for that day.  And either way, worth MUCH more than the 25 cents it was originally labeled for.
So the question this brings up today is this: At what point does a "bargain" become "taking advantage of?" Is there a certain threshold that would change your mind one way or the other? (For example, the difference between the value of this coin and what I paid for it was roughly about $14, or 1400% more. But would it have made a difference if it was worth $1,000 instead?) And does it really matter anyways since all parties agreed to the deal in the first place?
Obviously for me *something* mattered or else I wouldn't have woken up feeling bad about it this morning ;) But I'm curious to see what you all think. I don't know how I would have changed this looking back, other than offering more money since I knew it was worth a lot more, but then again that's why you go to yard sales to begin with, right? To get a steal? And I've been rockin' deals my entire life, so that's surely not going to change. I dunno… I guess for me it has more to do with the fact that I KNEW it wasn't a silly little coin, and the seller did not – even though we all walked away happier. Maybe I shoulda just told her that?
(Visited 19 times, 1 visits today)
Get blog posts automatically emailed to you!