Ever wondered how much George Washington was worth? How about HBO legend (and my new fave) John Adams?  Or Mr. President Obama?  Well you're in for a treat kiddos, I just got a tip from one of our readers that The Atlantic recently did a story on this and it's pretty wild!  It won't help you out in your own financial endeavors, but it'll be great for convo starters ;)  And perhaps it'll motivate you a bit too?
I was tempted to copy and paste the entire list here, but figured you wouldn't even recognize half of them anyways so decided against it. Haha… at least I didn't remember 'em (*cough* William Henry Harrison, *cough* Rutherford Birchard Hayes).   Instead I decided to grab the ones I personally like myself, along with some others who stood out for one reason or another.  A handful of these were pretty shocking!
And before anyone gets their panties in a bunch, don't put too much stock in the details and exact numbers here. There are a slue of variables that come into play, so just use 'em as a general gauge of success.  Here's how they calculated it:
"Having examined the finances of all 43 presidents (yes, 43; remember, Cleveland was president twice), we calculated the net worth figures for each in 2010 dollars. Because a number of presidents, particularly in the early nineteenth century, made and lost huge fortunes in a matter of a few years, the number for each man is based on his net worth at its peak."
So remember, it's in TODAY'S dollars and at the presidents' PEAK. Some liked to live above their means as they got older (naughty Thomas Jefferson), while others haven't hit their prime yet ;)
Famous Presidents & Their Net Worths:
President (#)
Net Worth
How they built it
George Washington (1st)
John Adams (2nd)
Thomas Jefferson (3rd)
Abraham Lincoln (16th)
Ulysses Simpson Grant (18th)
Theodore Roosevelt (26th)
John Fitzgerald Kennedy (35th)
Lyndon Baines Johnson (36th)
Richard Milhous Nixon (37th)
William Jefferson Clinton (42nd)
George W. Bush (43rd)
Barack Hussein Obama (44th)
$525 million
$19 million
$212 million
< $1 Million
< $1 Million
$125 million
$1 billion-ish*
$98 Million
$15 million
$38 million
$20 million
$5 million
Real estate, Presidential Salary
Real estate, Law practice, Farm
Real estate, Political positions
Attorney
Autobiography
Family Trust, real estate, books
Family Trust *Had he inherited it
Real estate, Business (radio & TV)
Interviews (think David Frost), Books
Autobiography, Public Speaking
Oil, Sale of Texas Rangers
Mainly Book Royalties
So it seems the big winners are JKF & good ol' George Washington! With Honest Abe and many others toward the end of the spectrum. And who knew Obama was down around there too? I guess had I put some thought into it it would made sense, but I guess that's why I find this whole thing appealing :)  I learnt sumthinn tooday!
If you're a financial nerd and love this stuff too,  I highly recommend checkin' out the article in its entirety: The Net Worth of the U.S. Presidents: Washington to Obama.
As it mentions in the article, "one of the most important conclusions of this analysis is that the presidency has little to do with wealth. Several brought huge net worths to the job. Many lost most of their fortunes after leaving office. Some never had any money at all." Fascinating stuff!!
——
(Photo by chascar. Blinged out by J$)
(Visited 18 times, 1 visits today)
**********
PS:
If you're just getting started in your journey, here are a few good resources to help track your money. Doesn't matter which route you go, just that it ends up sticking!
If you're not a spreadsheet guy like me and prefer something more automated (which is fine, whatever gets you to take action!), you can try your hand with a free Personal Capital account instead.
Personal Capital is a cool tool that connects with your bank & investment accounts to give you an automated way to track your net worth. You'll get a crystal clear picture of how your spending and investments affect your financial goals (early retirement?), and it's super easy to use.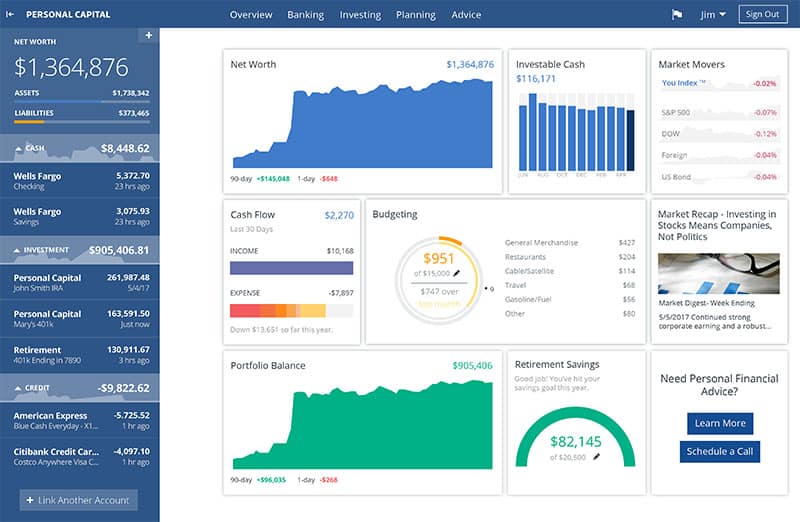 It only takes a couple minutes to set up and you can grab your free account here. They also do a lot of other cool stuff as well which my early retired friend Justin covers in our full review of Personal Capital - check it out here: Why I Use Personal Capital Almost Every Single Day.
(There's also Mint.com too btw which is also free and automated, but its more focused on day-to-day budgeting rather than long-term net worth building)
Get blog posts automatically emailed to you!