I recently went to my first coin show and WOW was it overwhelming! Who knew there were so many different types out there? And that SO MANY people were into this hobby? I feel like it's one of the oldest ones around actually, maybe even the #1 or #2 hobby in the country (though I'm totally making that up, haha ;)). But speaking of old-ness, here were a bunch of things I learned from this experience:
1. People who collect coins are old
I was literally the youngest person there out of the hundreds I saw (if you don't include the baby or my wife, both of whom are quite younger), and I'd say about 75% were at least pushing 70. Which is actually kinda cool because a) It means you can do this hobby for the rest of your life! And b) You're surrounded by TONS of experienced coin collectors… which brings us to #2:
2. There are hundreds of years of knowledge circulating these places
The average amount of years each of the dealers have been collecting when I asked them was between 30-50. That's a LOT. Which also made me super self-conscious because I'm like an ant to those guys, haha… On the other hand, I did feel pretty special when we started talking about website businesses here and there so I guess it kinda evened out in the end ;)
3. All the dealers were incredibly friendly!
Minus maybe one or two people who looked like they'd rather be talking with their buddies than actually helping customers. But them aside, everyone was super nice and always made a point to smile and try to engage you. Whether in hopes you bought from them or not (I may be an optimist here, but I swear they just liked talking about coins cuz it's fun :)).
4. All the dealers were incredibly HELPFUL
They were more than willing to answer each and every one of my questions I threw at them (which were a LOT, believe me), and when they didn't know the answer to 'em the forwarded me over to a different dealer at the show that specialized in what I was inquiring about :) Specifically, hobo nickels. One dealer talked with me for a whole 45 minutes teaching me everything from how to start a collection, to the more advanced "series" collecting, and all the way through to the importance of GRADING coins (some could be just a *tad* bit nicer than the next same coin, but could be worth hundreds or even thousands more just cuz that grade of a coin is more rare than the others)
5. Not all dealers specialize or care about all coins
When I was showing the hobo nickel I inherited from my grandma years back (the one pictured above, on the right, which is CARVED out of buffalo nickels like there on the left), some dealers told me it was probably worth a "few bucks" and then others said they've never even seen one before. Which is an important thing to consider if and when you ever want to sell it. Better to find the experts and enthusiasts in the field who will appreciate it (and pay top dollar) over the others who could care less!
6. Everyone will buy your silver or gold from you
If there's one thing that was accepted across all tables, it was that anyone would trade you cash for your bullion you had there with you. Some may only pay you 94% of "spot" (the rate precious metals are worth on any given day (you can use Yahoo! Finance to show you what gold/silver/platinum/etc goes for at any given minute) or up to 96% of spot, but either way if you had metal on you they'd be happy to take them off your hands :)
7. People carry thousands of dollars in cash and coins on 'em at all times
Which is kinda freaky if you think about it, on top of being INCREDIBLY ripe for theft (which I heard many a stories on after talking with quite a few dealers there). Some of these coins and bills these collectors have can be worth upwards of hundreds of thousands of dollars! For just ONE! So you can imagine a whole booth full of treasures – multiplied by like 80 booths – and you've got millions and millions of dollars all sitting there under one roof. Plus the cold hard cash they all have just waiting to be handed out for new purchases/trades/etc. The lesson here: Always be aware of your surroundings!
8. You can barter, trade, or sell almost anything you bring
Some things are easier to get rid of like your gold and silver and then more rarer coins in general, but most dealers will at least entertain trades or purchases even if at lower rates than you're willing to accept. But the fact you can wheel and deal is incredibly fascinating :) And I saw all types of trades going on after spending almost 3 hours there!
9. There are a million ways to collect coins
Some people enjoy collecting a certain "type" of coin (all pennies, for example, ranging from 200 years ago until modern times – will all kinds of shapes and sizes (and value) in between), others prefer certain "grades" only (like "mint" state, or "very fine"), some like to collect all coins of a certain year like your birthday or even all years dating back X amount of decades, and then you have the hardcore ones who like to not only collect every single year/coin, but also the MINT MARKS of each of them :) Which could be 2 or 3 per coin every single year. And lastly we can't forget about the "error" coins and other super rare ones too that go for hundreds of thousands/millions of dollars 'cuz there are only 3 of them left on this Earth… it's pretty wild. And a category I will decidedly NOT take on, haha… Here's a more in-depth article on types of collecting too if you're interested, and this Dummies Book is also super helpful. I've been reading it on and off for weeks.
10. We used to have some pretty funny coins back in the day :)
3-cent coins, 2-cent coins, 1/2 cent coins!, "half-dimes" (not to be confused with nickels), $1,000 bills, $100,000 bills and more. All in different shapes and sizes, and made of all kinds of different metals… At one point the currency of the day was even STAMPS!
11. And lastly, you get what you put in to these shows
Had I just shown up and looked around without opening up my mouth, I would have probably learned squat. Other than how expensive this hobby is! But because I was a chatty Cathy, and also happened to go after one of our Ocktoberfest adventures, haha, I was anything but subdued ;) I asked a million and one questions until I ran out of things to contemplate, and every minute hour I spent there was completely used to soak up more and more knowledge. 30 Mins wouldn't have cut it.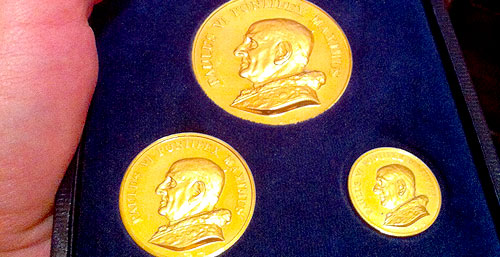 Man… I didn't realize I learned so much until actually vomiting all these words just now! haha…What an accomplishment :) And in fact, we had 4 others too that you might find rather interesting:
1. We walked away with $5,800 in cash :)
Something else we inherited from my grandma was a set of 3 gold-colored coins from a special edition Italian set of the Pope. My grandparents had lived in Italy half-a year, back and forth, for over 30+ years in retirement (my grandpa was from Italy and my grandma the US, so they had a house in both countries and split the time spent in both of them), but none of us knew of these coins were worth anything at all, or if they were even real gold or not.
Well, after talking with 4 different dealers at the show, we quickly found out they WERE! Both real gold AND valuable, haha… but only cuz of the 3+ oz. of gold they contained ;) Apparently sets like these are worth much more in pure metal than they are in collectible value these days which was just as fine to us. We shopped them around, and landed on a guy willing to pay us 96% of "spot" – even though he was one of the only people NOT friendly at the whole place. But our favorite wouldn't budge on his % (which came out to a $200 difference) and at the end of the day my mom said, "Show me the money!" Haha… it was the only part of my grandma's small collection she decided to keep for herself (she split up all the other coins among me and my siblings), and she had better use for the money than this box collecting dust. And $5,800 later she was one happy camper!
2. My hobo nickel is worth $250'ish!
Not the $5 quoted from the first dealer I brought it to… And while the guy offered me $150 to take it off my hands (they have to make a profit too, of course – a la Pawn Stars), he told me I should cherish it and hold on to it as it's a beautiful specimen and has sentimental value :) So I am, and this experience cemented my love for the coin industry even more now.
3. I learned I over-estimate the grade of coins quite significantly
Even though I thought I was being conservative! But this same dealer friend above told me what to look out for more, and that once you master the grading you can then search for the better bargains out there as well as completing my own collections more well roundedly.
4. I decided on WHAT type of collection I'm going to start
And that is the "Type" way of things where I'll be now working on getting ONE type of coin in all denominations across the entire 20th century. I found an awesome coin folder that'll not only tell me WHICH coins I'll need to get for this collection, but will also help keep them all in one nice and convenient place too :) I'm pretty excited about it…Then once I accomplish that mission, I'll move back to even further centuries like the 19th and 18th! Provided I have enough money and enthusiasm to continue by that point, haha… it can certainly turn into a money suck the farther back you go.
Okay, I think that's enough for one day :) I know not all of you are as interested in this stuff as I am, but I couldn't help but share all this awesome news, hehe… And hopefully it inspires some of you to take another look at the world of coins too! Even if you're not totally sold on the idea, I bet you'd at least have fun hitting up a local show and seeing what it's all about… The community really is pretty awesome around collecting.
We'll get back to your regularly scheduled programming again tomorrow…
UPDATE 2: I now have a coin blog! I'm officially addicted :)
——-
PS: And even if you don't want to collect coins at all, remember to always check your pockets in case you have old silver coins in there! They're worth a lot more than face value these days!
(Visited 14 times, 1 visits today)
Get blog posts automatically emailed to you!