We finally did it! We used a good chunk of all those gift cards that were piling up over the years :)  I don't know what got into us, but all of a sudden we REALLY got in the mood to shop.  And it felt GOOD!  (I seriously hadn't been to a Target or TJ Maxx in months…some places since last xmas!!!)
Here is a nice collage of some of the things we bought, and some of the things we didn't (can you guess which were the lucky winners?)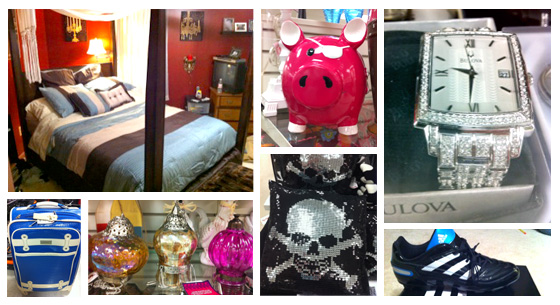 I might have pronounced Spend Your Gift Cards Weekend 3 months ago, but when you're not in the mood you're not in the mood.  And you really don't wanna be picking things up just for the sake of it (which is why we only bought 2 of those 7 items up there). In fact, one of these gift cards we used I had gotten 2 Summers ago! And even crazier, Mrs. Budgetsaresexy found one dating back to 2000 – a full TEN YEARS AGO!  Haha… Apparently some cards can't expire in the great state of Maryland ;)
But not all states allow them to live, so if you've got a bunch of gift cards laying around, USE THEM before they go bad. Millions and millions of them go to waste each year (to the tune of 6.5 billion)  and it sucks for both you and the loved ones who offered these nice dollars to you.  Wouldn't you be mad if your $20 went to waste cuz your friend was lazy/forgetful?  I would … so if I've given you any be sure to spend it! :)
You still might get Buyer's Remorse (which sucks because it really is "free money") but better to take advantage when you find something good. Just don't forget to STOP once you're on a roll! After 4 hours of shopping I started remembering how FUN it was…
PS: A tip for those who easily get addicted: Leave all credit cards and cash @ home and just go out with the gift cards. This will force you to come back even if you don't want to!
(Visited 2 times, 1 visits today)
Get blog posts automatically emailed to you!