Wha wha wooey! Attack of the cash! :)  And it was least expected too, as usually things die down in December while everyone's getting ready for the holidays.
But as luck (or hard work?) would have it, I got a few extra projects thrown my way which REALLY brought in the big bucks.  Even though I had to put in an extra 60-70 hours of work that month, on top of all the other stuff I was doing (aka I had no breaks whatsoever, except for Christmas day and my Bday). But I'm not complaining :)
You know that saying about when preparation meets opportunity?  Well, working for yourself comes in handy when things like this cross your path, and you have the flexibility to work on whatever it  is you want to at any given time of day.  It doesn't mean you don't have to do your "normal" work  (which for me, is blogging here and upkeeping some other projects), but it means you can hit pause and come back to it later when necessary.  Something that you really can't do at a 9-5.  (Or at least the ones I worked at.)
Just all the more motivation to continue on the 50/50 New Year's goal!  Work 50% less, and make 50% more ;)  Or rather, work 50% less of the stuff that I *have to do* so I'll have more time to take up whatever it is I want to at any given point in time. Like more career opportunities or baby hanging-0ut jaunts ;) Step by step, though – it's always a work in progress!
December, 2011's Net Worth Break Down:
CASH SAVINGS (+$21,268.80): The second best cash increase we've had, outside of when my grandparents passed away the other month.  Which is still being stored safely for when it's time to expand my business – something they would have loved to seen :(  Needless to say we've been blessed with cash infusions this year though, and we're doing everything in our power to make the best of it to protect our future down the line.
EMERGENCY FUND ($0.00): Filled up at $10,000 for worst-case scenarios, this hasn't (thank goodness) moved very much over the past handful of months. It gains interest, but it's mixed with other funds too and I don't take the time to divvy it all up to report :)
IRA: SEP (+$1,182.96): Nothing new added here – just the markets doing their thang.  And while it looks good going up, we're still way below where it used to be earlier in the year… it'll be pumped up in a little bit though, as soon as I max out the limits this year once my taxes have been looked over. The more I can put in, the less taxes I'll owe come filing season!
IRA: ROTH(s) (+$2,299.62): Same thing here, nothing added, though nothing planned for the future either.  I'm sure I'll max it out come 2012, but for now it'll stay where it is after maxing out for 2011.
IRA: TRADITIONAL(s) (+$4,837.52): Oh man, this LOOKS good, but we're still farrrrr off from our $180,000 amount this year.  But of course none of us can control the stock market, or foresee what's about (or not) to happen, so we do the best we can and hold tight.  I firmly believe the markets will trend upward over the long haul, so I'll continue dumping into it as much as I can for whenever that fateful time hits when it's time to dig in.  Like, when we all have computers imbedded into our arms ;)
Here's an update on our Ultimate IRA Game, haha… so far the actively managed accounts sure aren't impressing anyone!
IRA #1 (NOT Managed):

$55,825.11

**Took a BIGGER lead!
IRA #2 (Managed, USAA funds):

$54,872.71

IRA #3 (Managed, ALL funds):

$55,328.65
AUTOS WORTH (kbb) (-$49.00): Nothing new to report here, other than it's much better seeing this go down by $50 than it is $500 like last month ;)  Here are the KBB values of our cars believe, as if we were to sell it privately (which we would, if or when the time comes):
Pimp Daddy Caddy: $2,462.00
Gas Ticklin' Toyota: $9,060.00
HOME VALUE (Realtor) ($0.00): This is stagnant at $300,000 too. Not gonna update it until we talk to our realtor again down the road, which may or may not happen anytime soon (I don't want to bug him unless we want to take action on either selling or renting.  And I don't trust Zillow or the other programs very much, though they are entertaining to watch ;))
MORTGAGES (-$2,877.28): Going strong THREE months in a row now!  Operation Mortgage Payoff is picking up steam and I'm over the temptation of putting the money elsewhere!  The more I keep chipping away at it, the more I'm reassured that it's one of the best moves I can do at this moment in our lives.  I keep thinking that if the world goes to $hit, or my sites blow up and there's no way for me to make money anymore, as long as I own my house and have enough to eat off of, we'll be okay :)
It's quite the change in mentality from all these years of investing and saving 100%, but as I get older/more mature/more scared, I'm focusing more on the definites than the probables.  Paying off your mortgages is a locked deal – the money 100% pays off your debt!  Investing on the other hand is more than likely to pay off in the long term, but it's never guaranteed.  Nor is the rate of return, no matter how promising or not it is.  Again, I'm still gonna invest like crazy outside of paying off this house of ours, but right now the focus is most certainly on the definites of life.  Especially as a new one is debuting in July ;)
Here is what we owe still on both mortgages:
And that's that!  I know it probably doesn't  need to be said as we all know each other pretty well by now, but for all those new to the site, please take updates like this as ways I convey my own lessons with personal finance, and what works (and sometimes doesn't) with things I'm constantly working on.  It is *NOT* in any way intended to be braggart, or to show off all my luck and  hard work.  Yes, I work my ass off more than most people I know, and get "luckier" as the time passes, but I only put it out here to show that success really IS possible with money, no matter what stage in life you're in.
5 years ago I was bumbling around without the slightest clue about money stuff, but it was blogs like this out there from people like you and me who where sharing their own stories with us, and it really sunk in and got ME to do something about my financial life. The concepts behind money itself really isn't that hard, but getting MOTIVATED to do something about it is.  And my hope is to inspire just like they did, so that we can all live our lives as happily as we can all dream up :)
So take from this what you will, but always know I'm trying to help. And if you ever want to contact me separately, or have questions you'd rather ask offline, feel free to reach out anytime.  I live and breath this stuff, and always up to share my opinions and ideas. This is fun for me! :)
Hope you all had killer months too!


———————
PS: My newest "thing" I'm getting into right now is home design and sustainability stuff.  If you follow any blogs out there that fall around this category, will you drop the names in the comments for me?  I've got a few I've just started paying attention to (Re-Nest, Design For Mankind, Young House Love), but I'd love to have a half-dozen or so more to keep me inspired :)  Thanks!
(Visited 40 times, 1 visits today)
**********
PS:
If you're just getting started in your journey, here are a few good resources to help track your money. Doesn't matter which route you go, just that it ends up sticking!
If you're not a spreadsheet guy like me and prefer something more automated (which is fine, whatever gets you to take action!), you can try your hand with a free Personal Capital account instead.
Personal Capital is a cool tool that connects with your bank & investment accounts to give you an automated way to track your net worth. You'll get a crystal clear picture of how your spending and investments affect your financial goals (early retirement?), and it's super easy to use.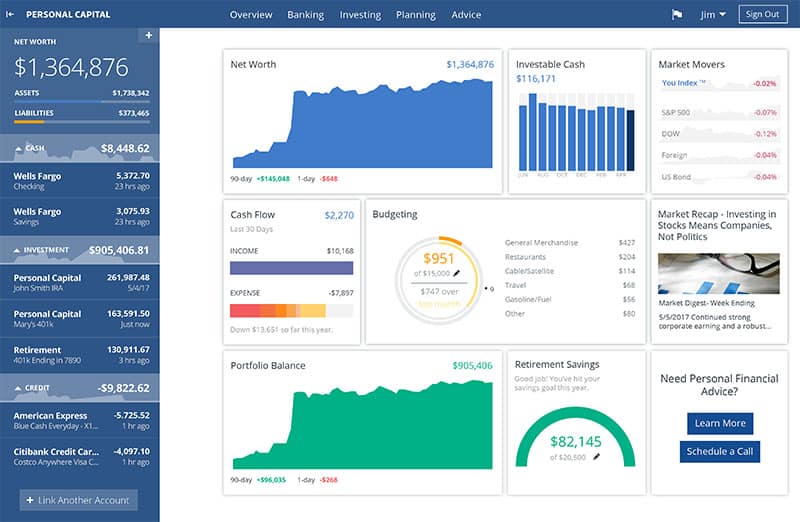 It only takes a couple minutes to set up and you can grab your free account here. They also do a lot of other cool stuff as well which my early retired friend Justin covers in our full review of Personal Capital - check it out here: Why I Use Personal Capital Almost Every Single Day.
(There's also Mint.com too btw which is also free and automated, but its more focused on day-to-day budgeting rather than long-term net worth building)
Get blog posts automatically emailed to you!