We've gone from one of our lows in recent history, all the way up to our new personal record! I love it :) Check out this horseshoe pattern:
Apr: $315,258
May: $301,195
Jun: $284,665
Jul: $296,797
Aug: $300,032
Sep: $331,530 (Now)
Six months to get our net worth up by $15Gs – doesn't seem as impressive as this month's $31k jump, eh? But that's the way the game is played sometimes. We have our ups when everything seems to be going our way like crazy, and then we have our terrible falls where everything just seems to spiral down and down no matter what you do. If there's one thing I've learned throughout the past 5 years of tracking this stuff though, it's that it's always a phase and it'll change one way or the other no matter how hard you try to contain it The key is to keep pouring your heart into the game so you have more AWESOME phases than opposite! 'Cuz then you don't mind the wild drops as much – it's only temporary.
That's my take on our financial lives anyways… Head down and full speed ahead! The rest of life will happen all around you, as it should :) So we're taking the day to sit back and enjoy our new milestone here before it changes again… hopefully for the better!
Here's How September Broke Down:
MONSTER CASH ($23,709.30): All that money from selling one of my sites the other month? It all went here. Plus a few more thousand that we were able to earn on the side as well… I totally still plan on throwing it into our retirement accounts to max them all out (my ROTH, her ROTH, and my SEP), but for now it looks too pretty sitting there in our cash account :) It just seems harder to "spend" right now since sooooo much effort and energy went into EARNING this big chunk, ya know? I guess I'm kinda enjoying the nice infusion as I have it… I'll eventually pull the trigger.
PHYSICAL GOLD ($86.30): Right now this department only holds my 1 oz. gold coin from earlier in the year. I plan on including my other precious metals I have on my physical self here too, but I just haven't had the time to sit down and calculate 'em all yet (I'm making a killer spreadsheet to track everything so I can watch them go up and down in value each month! I'm such a nerd! :))
IRA: SEP ($681.98): Haven't put anything new here since maxing out for the 2011 tax year, but we will soon when the 2012 wraps up and I know how much my "company" made for the year (as the amount I can put in depends on the total profit made). Part of that $23k made in cash this month will be assigned to this area when it's time.
IRA: ROTH(s) ($1,048.26): Same here – nothing added yet, but we will in a bit as soon as I finally maxing out both the Mrs. and I's accounts at $5k a piece (the legal maximum for 2012).  Then the fun part comes in on figuring out *what* funds exactly to put it all in this year ;)
IRA: TRADITIONAL(s) ($4,887.99): A decent return for doing nothing here too.  Though I still need to write up my thoughts on how this whole IRA Game has gone so far – esp now that it's already been a year! Jeez… Time sure does fly, eh? Here's how they all break down right now:
IRA #1 (NOT Managed): $62,940.25 **Still in the lead

IRA #2 (Managed, USAA funds): $61,020.31
IRA #3 (Managed, ALL funds): $61,721.84

AUTOS WORTH (kbb) (-$234.00): Normal droppage as to be expected. Nothing new really to report  here as we still haven't looked into getting a newer car/suv yet which we def. need to do sometime soon… I just don't want to go back to car payments again! I like paying $0.00 a month for perfectly working cars :) Here are the current values of them right now:
Pimp Daddy Caddy: $2,066.00
Gas Ticklin' Toyota: $8,521.00
HOME VALUE (Realtor) ($0.00): Same ol' as it's been the past few months – we're not gonna touch the $285,000 value until something big happens or the market changes enough for it to make more sense. (Like someone in our neighborhood selling again which has a comparable place). I don't mess with Zillow or the other type sites anymore – they fluctuate too much for me…
MORTGAGES (-$1,318.08): Our mortgage paying plan is starting to slow down a bit :( Haven't been able to justify plowing that extra $2,000 a month towards them when business is a lot slower here lately. Despite one-offs like selling that online property the other month and what not… As soon as things pick back up, I'll get back into the groove of murdering them again. I'm not too worried just yet :) Here's what the remaining balances look like:
And with that, another month down on the books! And a record setting one to boot :) Definitely looking forward to uncharted territory here in the future as we've never made it out this far!
How did you guys do this month? Anything exciting or juicy to report? I really hope so. I genuinely love hearing how you guys are doing too as it helps to keep ME motivated as well! If I were the only person talking about and tracking this stuff, it would be real damn boring up in here! Haha… So please, share your own numbers if you're comfortable with it, okay? Us nerds like hearing 'em :)
Here's to another great month,


———————
PSA: Just a quick note that if you're NOT tracking your net worth as yet, get on it!! No matter how much money you have, or don't have, it's a good practice to get into so you can always know exactly where you stand. And it's super easy to do too: Just add up all your assets and then subtract all your liabilities – voila! You'll have your total net worth in one condensed number :) Good luck!
(Visited 28 times, 1 visits today)
**********
PS:
If you're just getting started in your journey, here are a few good resources to help track your money. Doesn't matter which route you go, just that it ends up sticking!
If you're not a spreadsheet guy like me and prefer something more automated (which is fine, whatever gets you to take action!), you can try your hand with a free Personal Capital account instead.
Personal Capital is a cool tool that connects with your bank & investment accounts to give you an automated way to track your net worth. You'll get a crystal clear picture of how your spending and investments affect your financial goals (early retirement?), and it's super easy to use.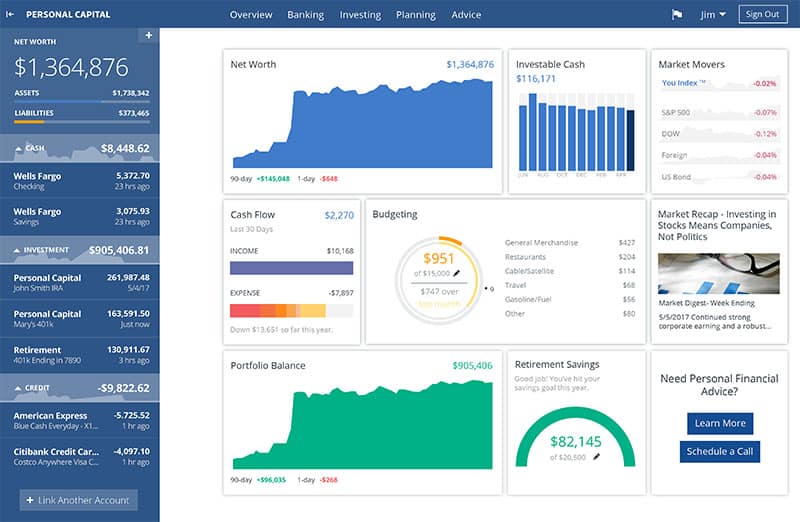 It only takes a couple minutes to set up and you can grab your free account here. They also do a lot of other cool stuff as well which my early retired friend Justin covers in our full review of Personal Capital - check it out here: Why I Use Personal Capital Almost Every Single Day.
(There's also Mint.com too btw which is also free and automated, but its more focused on day-to-day budgeting rather than long-term net worth building)
Get blog posts automatically emailed to you!