We just got our 2nd money collage in the mail! This time by fellow reader Gina of Nashville, Tennessee :) Who apparently has a crush on both Warren Buffett AND Dolly Parton, haha… but who can blame her? They're both super smart with their business and money!
If you missed the first collage we added up (I think I called it a "love letter" back then), you totally need to check it out next. It seems SlackerJo has started a new trend here, and I'm loving the new direction y'all are running with. Way to get creative!
But enough of my yip-yapping… Here's the newest artwork & money notes by my new best friend, Gina: (Click to enlarge and be WOW'd!)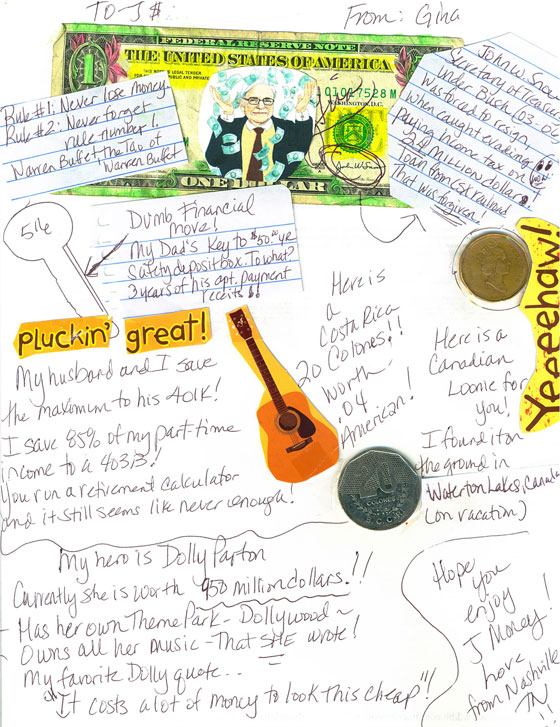 Nicely done, huh? I like how all the collages we've had so far somehow included Canadian currency ;) Though this time we even get some Costa Rican action up in here  woop woop! And we also get our first dollar bill doodled on too, that's hot. Warren Buffett should TOTALLY be on one of our bills in the future! Maybe if the mint ever brings back the $1,000 ones he could grace those?
But anyways, in case you missed it, here's how Gina and Husband are rockin' their money:
They save the maximum to her husband's 401(k)! Something that's music to my ears.
And they also save 85% (EIGHT-FIVE!!) of all Gina's part-time income into her 403(b) – which is pretty much like a 401(k) but for those in the public education and some non-profit organizations, etc. Like if you're a teacher.
Way to kill it, guys! That's awesome. And hopefully very motivational to others out there too reading this and wondering if they also should try something similar as well (The answer? Yes – but only if you have a good system down and it won't force you into more debt or anything. The better handle you have on things, the more you can take advantage of great opportunities and tools like these!)
Gina also wants to remind you to never do any of the following:
Pay $50.00 a year for a safety deposit box that only has receipts in it.
Forget to pay income tax on $24 million dollars of debt that was also FORGIVEN for you! (And even worse – also be the guy who SIGNS SIGNED all the dollar bills! D'oh. Talk about irony…)
Thanks Gina! Some good lessons to keep in our back pockets for sure. You rock.


—————
PS: Anyone else wanting to shoot over a collage? Lemme know and we'll make you famous!! This all started from my "dollar doodle" request which has (awesomely) gone in a completely different direction, haha… ya never know what the internets will do!
(Visited 4 times, 1 visits today)
Get blog posts automatically emailed to you!