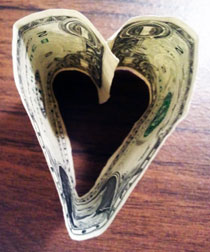 (Article by Zach of All Trades)
Money is a sensitive topic for most.  It's a big taboo in our society to talk about how much you make or ask others about what they make. For some reason it's fine to talk about a stock tip or a business venture, but to actually talk about how that tip or that venture affected your bottom line? Scandalous.
Things get even more uneasy when feelings are involved. When you're emotionally involved with someone, perhaps even thinking about spending the rest of your life with that person, it can be difficult to bring up the subject of money.  At the very least it's unromantic, but it is ESSENTIAL if you want to create the best possible life together.
Many people are afraid their financial situation will not measure up to what their significant other is looking for.  In such insecurities, one might have fantastical ideas about how rich the other person is compared to them and over value what they really have.
Bottom line, until you talk about finances, it's all smoke and mirrors and uncertainties.  Just because he takes you out to a nice restaurant doesn't mean he's loaded.  Just because she has a great job doesn't mean she manages her money well.  In this world of shifting gender roles, both sexes have the opportunity to be big earners and it's important to consider the ramifications of income imbalance, sharing debt, sharing credit, and the nitty gritty of each person's financial history.
Love Financials
Talking about money does not have to be scary.  Quite often, it is relieving for both parties because it brings understanding into the fold.  That is KEY in any relationship.  The richer party is relieved that the poorer party actually understands the value of their money and the poorer party is relieved the richer desires a relationship with them even though their finances may not be great.
When you first get into a relationship, a lot of focus is placed on what YOU want.  Does this person have everything YOU'RE looking for?  Do they look right, sound right, spend right?  Once you're in a committed relationship, the focus has to change.  It becomes "Are WE right?"  Do WE look right?  Do WE spend right?  You're a team!  Two are always stronger than one and often the two sides can balance out where the other is lacking.
By getting together, you can cancel out one another's draw backs and arise on the other side stronger than you were.  This is why being open and communicative are so important when talking about finances in a relationship.  Don't think about what is best for YOU, think about what would grow your future together in the best way for BOTH of you.
Setting Ground Rules
Once you know where both of you lie on the financial spectrum, talk about where you'd like to be, what financial roles each of you are comfortable with playing, and then set up some rules for each party to adhere to.  OOooh, Rules!  That sounds so romantic! 
Eventually you have to ask yourself if you want more drama in your entire life though, or if you want to grow up and be fiscally responsible.  The romance is still there, but if you don't get serious about every part of yourself, how can you truly be serious about the relationship?
Here are a few great rules:
Set a limit on spending.  If something costs more than $200, then it must be discussed with the other person first before a purchase is made.  You can set whatever limits work for you guys, but this is a good ground rule for shopping and understanding how the other person thinks about value. (Editor's Note: This number is $100 in the J$ household, although J$ tends to forget sometimes ;))
Come up with a joint savings plan.  Review what both of you have in the bank and talk about your plans on saving for the future.  When do you want to retire?  How much cash flow do you need?  You're now calculating a budget, cash flow, and net worth for two!
Rejoice in goals reached.  Creating milestones for you to make as a couple allows you to celebrate when those goals are reached.  You're not celebrating for one or the other, you're celebrating for the BOTH of you. You, as a couple, have managed to make it!
I hope you found this post useful!
———
Guest Post by Zach of All Trades over at The True Generalist. I've been following J Money's blog for a while and was inspired to start my own PF blog over a year ago.  Now I'm moving everything over to a new site with a new goal. I'll still talk a lot about finance, but also about Travel and Writing and doing many things in life at once. For those of you who find it difficult to FOCUS on one project for a length of time or pick a path in life, I want to help YOU. Come on over to The True Generalist, we just got started. You can also follow me on twitter @Zoracle or Like us on Facebook.
(I also made that heart dollar up there, do you like it?)
(Visited 1 times, 1 visits today)
Get blog posts automatically emailed to you!