Now THAT's what I'm talking about! What What! Of course, I cheated and sold some stuff to get it up there (aka $50,000 of it is a one-off) but still – $430,000 is $430,000 ;)
And if compared to the lowest month this year – January – we're up a whopping $100,000! Which is a 30% increase in 10 months – for all you % lovers out there :) (See – I kept it in this month for you too! Even though I had to re-figure my calculations cuz I goofed last month and didn't do it *exactly* right. I had to actually Google for the correct math equation cuz I was thinking too hard on it and got lost, haha… Here it is if you get confused with this stuff too: percentage change equation.)
Anyways, one of the best months ever over here – if not THE best one – and now we work towards hitting that half a million mark :) It hasn't been easy, but it's all been worth it so far!! I'd rather work my ass off for a solid 5-10 years now and relax the rest of my life, than go half-speed and have to work 'til I'm 60 or 70 or God forbid 80 (even though I'll always be tinkering around with stuff anyways – but at least it will be a *choice* rather than *mandatory*).
This actually reminds me of Paula's 4 routes of retiring she blogged about earlier, you should check it out when you get a chance. There's not just 1 way of doing it contrary to popular belief :)
Here's How October Broke Down:
CASH SAVINGS (+$50,329.78): BAM! Finally in the green after all these months! Even *without* that $50k infusion we'd still be in the green too – woo! Pretty proud of that one… First time in a while we haven't bled cash :) And while a chunk of it will be going into maxing out some IRAs later (you can see the plan for this $50k here), for now it'll sit here looking all sleek and sexy…
529 College Savings (+$166.31): Nothing new added here – and probably not for a while until The Perfect Storm has passed.
IRA: SEP (+$2,029.85): Nothing new added here either, though it will get a nice bump come Jan or Feb once I max it out for the 2013 tax year. Probably looking at around $15,000 invested, which will come out of that $50k surplus mentioned earlier. Not sure what I'll invest it in yet, but probably a Vanguard fund…
IRA: ROTH(s) (+$2,527.96): Same here – nothing added, just the markets doing it's thang!
IRA: TRADITIONAL(s) (+$6,764.97: Same with this one too… As you can see the more you have invested when times are going well, the more return you get on top of it :) Of course, the opposite is also true when the market goes down.
Here's how the three accounts break down – as part of our never-seem-to-be-ending IRA Test, haha… Just haven't mustered up the energy and patience to pull the trigger and combine them all yet..
IRA #1 (NOT Managed): $76,034.95 **Leader for two years now

IRA #2 (Managed, USAA funds only): $71,041.59
IRA #3 (Managed, ALL different funds): $72,077.98

AUTOS WORTH (kbb) (-$134.00): Oddly enough my caddy (the one on its last legs) went up about $150 this month according to KBB.com, and the Toyota (still almost as good as new) went down $300. I think once 2014 hits though KBB won't give me the option to check the value of my Caddy anymore cuz it'll then be over 20 years old :( So I guess I'll have to just keep it at whatever it is going forward and that will be that.
Here's how they both break down:
Pimp Daddy Caddy: $1,837.00
Gas Ticklin' Toyota: $6,425.00
HOME VALUE (Realtor) ($0.00): The same $300k as it's been since July when we revalued it w/ our realtor. I still very much want to sell it and be done once and for all, but in the meantime we're getting more and more exposure to the world of renting, so at the moment it's at least serving a purpose.
MORTGAGES (-$647.07): Another month, another big chunk paid away! Mainly from the principal payments already built into our 1st mortgage, but there's also that $200ish extra we pay in every month too as we round up when making our payments. One of my favorite things to pay every month :)
Here's how both our mortgages break down:
That wraps up October! It was a good one! :) As you can see from that graph up there, it's been quite the turn around over the past 5 months. Especially coming off that DROP of about $40k, ugh… That's where it REALLY hit home and got me to hit pause and reevaluate life/career/money… I'm still trying to wrap my head around it all, but it's been easier to do lately with this recent infusion ;) Just can't get too comfortable because we've got a ways to go! We may have more cash on our hands now, but our cash *flow* is still looking pretty anemic compared to yesteryear… (and we have a new baby coming in 7 months! Woo!)
Hope your net worths are looking good as well! Let us know how you did last month in the comments below… And if you're not tracking it yet, DO SO TODAY! Download my money snapshot spreadsheet and get to work :) Or one of the other dozen or so budgets to start tracking that money…
Once you *know* where everything is, it makes it MUCH easier to shoot for your goals. 'Cuz then you're dealing with REALITY vs. what you THINK is reality ;) And believe me, our heads are never as smart as the numbers. Took me 25 years to realize that and I hope you have/will soon too!
Till next time, friends…

———–
PS: If anyone misses Halloween and/or hates bill collectors, you'll enjoy this 2 min video: Killer Student Loans: A Horror Story. It's pretty funny :)

(Visited 32 times, 1 visits today)
**********
PS:
If you're just getting started in your journey, here are a few good resources to help track your money. Doesn't matter which route you go, just that it ends up sticking!
If you're not a spreadsheet guy like me and prefer something more automated (which is fine, whatever gets you to take action!), you can try your hand with a free Personal Capital account instead.
Personal Capital is a cool tool that connects with your bank & investment accounts to give you an automated way to track your net worth. You'll get a crystal clear picture of how your spending and investments affect your financial goals (early retirement?), and it's super easy to use.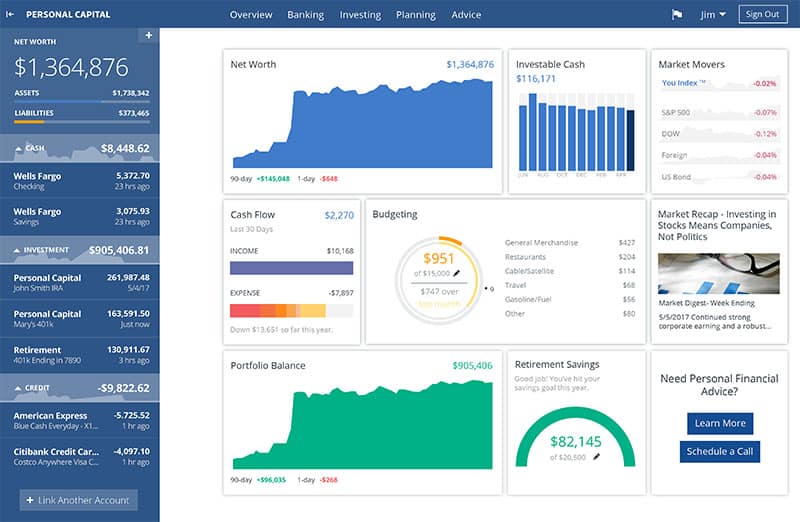 It only takes a couple minutes to set up and you can grab your free account here. They also do a lot of other cool stuff as well which my early retired friend Justin covers in our full review of Personal Capital - check it out here: Why I Use Personal Capital Almost Every Single Day.
(There's also Mint.com too btw which is also free and automated, but its more focused on day-to-day budgeting rather than long-term net worth building)
Get blog posts automatically emailed to you!