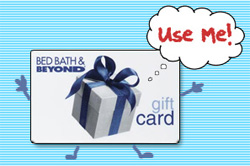 Yesterday's post reminded me that I've got a crap ton of gift cards lazying around that need to be spent. And the longer they collect dust, the better the chances of them expiring!
Chances are I'm not alone here either.  I forget what the stats are on this (and I'm too tired to Google it right now) but I think it was something like the average person having around $30 worth of unused gift card dollars.  Or something like that, I dunno.  I might have just made that up ;)  But the point is , if we don't use up whatever gift cards we have we'll lose them!
So mixed with my intense desire to go shopping these days, I am declaring this weekend the weekend of gift card using! Hurrah!  Spending that won't mess up your budget!
Here's a breakdown of all the cards I need to get rid of:
Vanilla Visa Gift Card:

$2.38

— Approx. 1 1/2 years old
Chase Gift Card:

$171.79

— Approx. 1 year old
TJ Maxx:

$12.49

— Approx. 8 months old (a return put back on gift card)
iTunes:

$10.00

— Approx. 2 years old.  This one should be easy :)
Crate & Barrel –

$50.00

— Approx. 1 year old… a wedding present that we got 1 YEAR after our wedding!  Guess someone follows those etiquette rules? Although I don't think I'll ever understand the point of that one…
That's almost $250 buckaroos just waiting to expire! And who am I to not give them a fighting chance?  I don't know about you, but this seems like the perfect way to get out there and have some fun.  Maybe pick up some things we ordinarily wouldn't? (for some reason a $180 trash can from Bed Bath & Beyond comes to mind…even though that does seem pretty wasteful (no pun intended).)
The only downfall I see here would be if you happened to have some duds in your stash.  The cards you really just hate and have no desire to use (Red Lobster card when you're allergic to fish?)
If that's the case, check out one of my posts from 2 years ago on sites you can trade them in at. More work on your behalf (and most of the sites takes a fee), but at least you'll then be benefiting from them.  Or if you're really lazy, you can just hand them out as gifts one day!  Just because they suck to you doesn't mean they'll suck for everyone ;)  The whole "one person's trash is another one's treasure" type thing, right?
So yeah – this weekend I'm gonna do my best to spend some of these bad boys.   I can't promise I'll get through them all, but at least now I have a mission.  It really is the perfect opportunity to spend guilt-free!  Wanna join?
(Visited 4 times, 1 visits today)
Get blog posts automatically emailed to you!