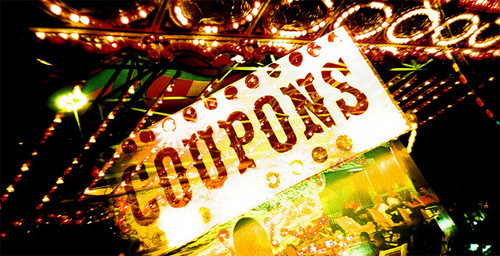 In case you're un-cool and unaware, National Coupon Month starts today!!! There's even a whole website dedicated to it: nationalcouponmonth.com
3 interesting facts and then I'll let you go celebrate:
97% of consumers want to know the cost of an item before buying.
91% of shoppers would walk away from the "perfect sweater" if it wasn't on sale.
Coca-Cola invented the FIRST coupon!! It was hand written, dating back to 1887. (More info here…Coke lore also says they invented the modern day Santa Claus "look" too!)
Okay actually I lied about letting you go so quickly. Before I could post this up Mrs. BudgetsAreSexy chimed in and started telling me all about her run-in with some crazy coupon lady at the grocery store yesterday :) I told her the lady was probably getting geared up for National Coupon Month but she wasn't buying it. Instead, she offered to share her own thoughts on the subject matter. So, in the spirit of couponing, please to enjoy my wife! (that sounded bad, didn't it?)
Based on my lengthy wait behind Miss Coupon Crazy this afternoon, here are a few thoughts on the pros and cons of coupon clipping (specifically, for grocery stores):
Why coupons are awesome:
You save $
Fun family activity? (or at least, you could argue that clipping coupons might teach your kids a good lesson…or serve as a creative punishment for wrongdoing)
You can feel accomplished and proactive about reducing your grocery bill
Potential to find a good product that you might not otherwise have used (since you are more likely to buy it with a a good coupon!)
Why coupons are the opposite of awesome:
Clipping coupons sucks
It's often hard to remember to bring coupons along to the store
Using them at the register can be aggravating to others (mainly, the cashier and/or the people behind you who have to wait those precious extra seconds)
With many grocery coupons offering just $.10-$.50 off, the money saved per coupon usually seems pretty insignificant (and disproportionate to the effort required to use it)
Clipping coupons sucks
The dedicated coupon-clipper, however, can probably attest to the fact that it can be a big money saver in the long run. E.g., Miss Coupon Crazy, whose extra 20 minutes of sorting, tearing, and handing over a mountain of coupons resulted in a pretty giant reduction of her even more giant grocery bill — from $376 to $318. That's a whole $58 that could go towards so many other things! …Like candy bars and magazines in the check-out lane. :)
PS: According to National Coupon Month's website, just spending 20 minutes a week clipping and clicking could save you over $1,000 annually! Do you think that's true? How much do you reckon YOU save every year clipping/clicking coupons?
———–
Thanks to Lina for the head's up on coupon month! If you reside in Canada, check out her Coupon Tracker application. And thanks also to Lomo-Cam for the awesome pic.
(Visited 5 times, 1 visits today)
Get blog posts automatically emailed to you!