Sandy left this on our how to spend less and save more article last week, and thought it was a brilliant way to stay motivated paying off your debt. Specifically with mortgage debt.
Check it out:
I remember every time I wrote that check and put it in the mail, I would wait for it to post to my account and I would imagine that I am pushing the bank one step back out my front door. I would come home from a long day at work and would think, "today I bought back 5 square foot of my home." When I paid down more I would imagine my bedroom is paid for now, then the living room and the kitchen and so on, and that would keep me motivated to save like crazy. When I wrote that last check and I got the letter in the mail that I own my home free and clear, I shut the door for good on borrowing ever again.
YES!! I probably pay off 5 square INCHES with my own mortgage payments each month, haha, but a pretty empowering idea nonetheless :) Imagine if you got a certificate in the mail every time you hit a milestone?
"Congrats – you now own your front door!"
"Way to go! You just scored a bathroom!"
"Boom shaka laka – You own the entire first floor!"
Haha… of course that will never happen since the bank doesn't want you to pay off your debt (after all, that's how they make their $$$), but my Lord would it be awesome if they did. I swear, if I ever launch my own bank one day you can bet your bottom dollar we'll be having some fun with it ;) At the very least I'll throw everyone a free Pay Off Party on me – woo!
This reminds me of that other – even more visual – way to keep crushing that debt too: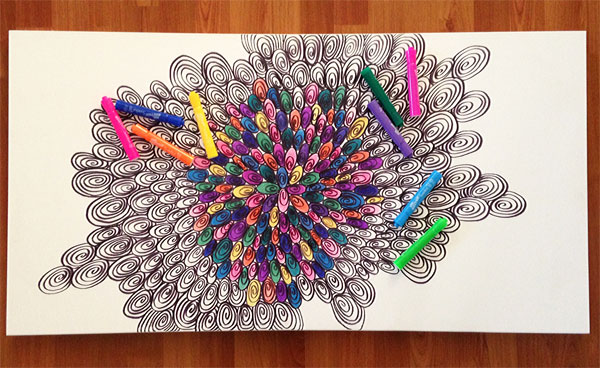 The "color-in-a-circle-every-time-you-send-in-a-payment-and-make-something-pretty" idea! Created by this chick who paid off $26,000 doing exactly that, and then went on to open her own store to pass on the goodness to those who wanted some inspiration as well… Could be a great gift idea for anyone who needs a little subtle nudging, haha… "Here, take this awesome art AND START PAYING OFF YOUR FREAKIN' DEBT ALREADY!" ;)
As you can see, the more you can visualize stuff and give yourself little wins along the journey the better. Not only will it seem much more tangible to you, but you'll reach the finish line a lot sooner too! Check out this list of 20+ other physical triggers we've covered along the way as well – people are pretty creative.
As for me, I'm considering amping my motivation in a little different way… I was wondering the other day how many dollar bills it would take to cover an entire wall of my home office (yes, I was incredibly bored), and a few calculations later I figured that it would require roughly 1,000 bills to actually wallpaper the ENTIRE office.
And you know what that means, right?
If each bill represented $1,000 and I added one up every time my net worth rose by a grand (or took one down every time it dropped, boo hoo) my walls would become my new motivator! Because "all" I'd have to do is keeping plastering them up until the walls are covered and then I'd have reached that elusive $1 MILLION dollar net worth milestone – woah! How sweet would that be? And actually, it would mean I had $1,001,000 if you included the bills on the wall too – hah.
Anyways, we'll see if I actually do it or not, but I'd be lying if I said I wasn't tempted… It would make for quite the conversation starter, wouldn't it? Maybe I should do it in the name of education ;)
Happy #StayInTheBlackFriday!
(Visited 14 times, 1 visits today)
Get blog posts automatically emailed to you!