Happy graduation weekend everyone!!! Big changes for many of you out there – woo!
We'll be celebrating ourselves while my wife walks up to get her PHD, and it'll be the first time I'll attend a graduation in like 10 years :) But so so proud of my darling wife. 7 years of studying, teaching, writing, and then finally knocking out her big dissertation which all leads to this beautiful day. All while producing two beautiful boys and putting up with the antics of yours truly. She's a gem, alright! Haha…
And hey! We'll get to use her $200+ graduation gown for two whole hours before having to return it back to the shop – what a privilege! NOT. (Remember when "NOT" was popular btw?? I so miss that…)
Anywho, a new chapter opens up when you graduate from school, so I thought I'd share some parting wisdom to any of those undergrads reading this right now, or those soon not far off. And you should listen to me since I'm old and wise and rockin' a mohawk still at 35 ;) That alone should give me some street cred, yes? Maybe? I should have left it in the 80's? Damn you…
Things to keep in mind as you graduate college:
This is the best time to take risks and follow dreams!!
It's also the best time to start investing – even just $10/mo
As well as the best time to CHALLENGE THE NORM
And to lock in a simple lifestyle before society tries creeping it up
And, most importantly, the best time to hustle your ass off so you don't need to hustle until you're old and gray or even 35 like me. Set the plan into motion NOW and get to live The Dream similarly to how one Mr. Money Mustache did when he figured out the system. It's much easier to adapt now then when you're set in your ways, and there's no rule that you have to work 40+ years like everyone else if you don't want to.
So pretty much this is the best time to just kill it while you have all the time in the world without much responsibility. Sure you'll have pressure from those around you, but remember this – this is YOUR life and the goal is to live it on your own terms. Take some risks and see where it goes!
Personally, I only hit 2-3 of those tip above after graduating. Mainly the taking risks and following my dreams route as I packed my bags and moved up to NYC to be a rock star partier and best graphic designer / art director ever! Only to get a reality check and have to make due with minimum wage and drinking on a budget ;) But still – I did it! I moved my ass up there and even traveled the world while working for the airlines. Something I can't even consider now with a family and responsibilities in tow. So believe me – you want to have fun and go after your goals in full thrust now while you have the freedom. You'll settle into your own later once you've figured it all out.
The only thing I wish I would have paid attention to more was my money and investing. And particularly my work ethic. I did enough to get by, but I never really put myself in overdrive to really get the ball moving. I guess we all figure it out at some time (hopefully!), but it would have been nice getting that $$ compounding a few extra years earlier to really jack it up. Time is SO on your side when you're young! You have to take advantage!!
Anyways, congrats to all the graduates out there, and even more to the ones reading this blog right now :) It already shows you've got money on your mind, and this will forever help you out. You only need to learn it once and you're set!
Here's how this week went in my finances…
Digit saved me an extra $48.31
Acorns invested me an extra $8.07
Ebates sent my wife a check for

$50.35

! And not just any ol' check, but a "Big Fat Check," haha…(For those unfamiliar w/ Ebates, it's one of the more popular places to go online for cash back reward shopping. You don't earn millions, but it def. adds up. And I believe first time signer uppers get a $5.00 credit too which is cool.)
I found a new Dell keyboard and mouse for

$2.00

at a yard sale! The letters of my old keyboard had been completely worn off from all the typing action over the years, but being the frugal (and lazy) person I am, I hadn't gone out of my way to pick up a new one. And it's a good thing too as I randomly came across a perfectly good keyboard/mouse combo for the sexy sum of just $2.00! It was so good I didn't even have it in my to bargain! Haha…
I've helped liquidate a coin hoard for a friend of mine for

$1825

so far. It's not money I can keep myself, but I do get a small commission and some free coins to add to my own collection for helping :) It's a collector's DREAM to sort through a long lost box of coins from an attic! Which reminds me – always be on the look out for quarters and dimes and half dollars in your spare change dated 1964 and under. They're full of silver before the gov't stripped 'em and are worth a lot more than face value. Though I can't tell you the last time I found a half dollar roaming around :)
The one big nasty loss this week: $456.54 for that dermatology work for my wife… The bill finally arrived and was a doozie, ugh… Good thing we have emergency savings!
Stuff that went down in blog land…
I officially brought on Cait Flanders to help me manage Rockstar Finance! Many of you will know her from BlondeonaBudget.ca, but I know her as a loving, awesome, wonderful person and even harder worker out there. I needed a new partner to keep Rockstar going as it started taking up a good chunk of time, and I was more than excited when I found out Cait was open for collaborating and believed in the mission. So tell her thanks the next time you see her online! She's making my life a lot easier and has already helped grow the site in the brief amount of time on board. I'm excited, Cait!
I'm hosting a coin giveaway on the 3rd best site online: Coin Thrill! My coin collecting blog :) It's in partnership with the Royal Canadian Mint up north (yeah Canada!), and in celebration of 75 years of Looney Tunes. Which is just mind blowing. They sent me a coin to review and give out, so click here to learn more and the enter to win! There's hardly any entries so far, so you have a really good shot of winning, haha… It retails for $100+.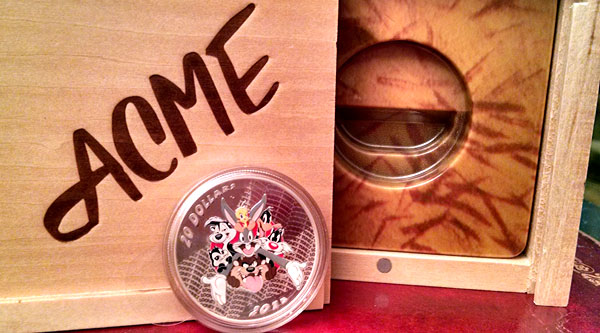 Gretchen from Retired by 40 is hooking bloggers up with Pinterest help… I was a bit hesitant when she offered me up some pointers, but I'm actually really glad she did. I'm learning a ton on how the Pinterest world works and is just so "out there" for me since I'm not much a pinteresty type person myself. Def. a good person to reach out to if you want to have more of a presence there, and she can actually help you manage your own account there as well for a fair price.
Jeff from Sustainable Life Blog launched a new service to help bloggers grow their newsletter list. We, too, started working together and he's given me some pretty good tips as well, I just haven't stopped to put them into action yet which is the most important part – hah (and just goes to show that we ALL suck at taking action sometimes). You can ping him here at his new site if you're interested in learning more: ConversionLabsMarketing.com
Stefanie from The Broke and The Beautiful Life came out with a book! I may be a few months late here in sharing (sorry Stef!), but it doesn't mean her book isn't less awesome ;) It's a down to earth read that encourages people to "redefine their relationship with money and approach budgeting as an exciting and sexy tool to transform from broke to beautiful while enjoying every step along the way." If it sounds interesting, you can learn more here ($9 Kindle / $15 paperback): The Broke and Beautiful Life: Small Town Budget, Big City Dreams
Some $$ companies that came across my desk this week…
These are the guys that looked interesting, but not enough for me to do a full review on them since I only do those for the ones I really love and connect with myself. But that doesn't mean they couldn't be perfect for your situation! Which is why I continue to list them here in case they help out.
StudentLoanHero.com — A place where you can compare repayment options with your student loans. As well as play with some nifty calculators. Probably something good for you recent grads to do! Gotta get that debt-slaying plan in action before it starts pissing you off! (Or is it too late? ;))
Robinhood.com — A new brokerage company/app that let's you place stock trades for free. How? By being "built from the ground up to be as efficient as possible, removing a lot of the human touchpoints that lead to high cost structures at other brokerages. By cutting out the fat — hundreds of storefront locations, manual account management, expensive Super Bowl ads, etc." But here's my favorite part – some of their investors include Snoop Dogg, Jared Leto and Nas! HAH! They've also raised $16 Mil from big players like Google Ventures and Andreessen Horowitz too, but I found it hilarious that rappers have jumped in the game too… Though not surprising since they're BEASTS at business. Especially Jay & Dre. Anyways, you can now invest like Snoop Dogg ;)
DraftApp.com — This one was brought to me by my good blogging bud Jim Wang of Bargaineering fame. I haven't spent much time poking around it yet just cuz I'm one of those "set it and forget it" type investors, but if you love staying on top of this stuff and getting into the research and what not, you might want to get on their waiting list for when it launches. It's basically an app that uses crowdsourced data to help you understand and compare your portfolio. And they've got some good buzz already going on in the tech world.
And lastly, if you thought YOUR day was bad…
Happy weekend y'all… Keep those wallets close by! :)

——
[Hat tip to Millennial Money Man for sharing that hilarious pic up top. I miss Game of Thrones since nixing HBO, though I am onto the 3rd season of Friday Night Lights courtesy of NetFlix… That Tim Riggins is something else!]
(Visited 8 times, 1 visits today)
Get blog posts automatically emailed to you!