Here's something you don't see every day: a pamphlet from 1958 giving you over 300 tips "to save you time, money and trouble!"
Found it on Ebay for $3.00 and just had to pick it up for the blog :) (You're welcome)
There's a ton of stuff that's no longer applicable (sewing machine tips, typewriter hacks, and a bunch of not-so PC comments around house wives), but by and large it's actually a pretty solid brochure even in these days. Our parents would be so proud seeing us talk about them today ;)
In fact, why don't you *email them* this and get some good bonding in? I'll wait…
Alright, so here are my favorites from the batch…
If you feel like frugality has been lost in your lives, hopefully this will bring it back for good. And then you can pass it along to your future generations in another 60 years too ;)
If we don't save frugality, who will??
My Favorite Frugality Tips:
#1. To remove water marks from furniture, use several drops of spirits of camphor on damp cloth and rub over mark.
#6. An emergency ice bag can be made by folding a wet towel and freezing in an ice cube tray. Put frozen towel in a plastic bag and tie end shut.
#11. Keep your shower cap pinned to the inside of your shower curtain with a small plastic clothes pin. It will drip in the tub and always be there to use again.
#17. Run hard candy through a food chopper and sprinkle it on ice cream or frosted cakes. A joy to see and eat.
#21. If you are remodeling your basement, don't throw away left over moldings. Some shapes make very attractive picture frames.
#29. Cut the bristles of an old toothbrush down to 3/8″ and you have a good fingernail brush.
#33. Fresh vegetable salads of all kinds are greatly improved by adding a little lemon juice.
#47. Squeaky floor boards can usually be stopped by pouring hot melted soap in the crack.
#66. Peanut butter mixed with honey and raisins make an ideal sandwich.
#68. Removing rust spots from metal tools can be done safely and easily with a typewriter eraser.
#70. Temporary counter space in a kitchen can be provided if you pull a drawer out part way and put a cookie sheet on it.
#71. A belt to match any dress can be easily made by folding material over an old belt and fastening the center on the underneath side with iron-on tape.
#79. Don't throw away that old large hand bag. It makes a good first aid, sewing or what-not kit to carry in your car trunk for emergencies.
#83. If you have trouble threading a needle, push it through a piece of white paper; the white background will help you see the eye better.
#89. A periodic wiping with a cloth dipped in turpentine, of the tile and shower stall in the bathroom, will renew its look.
#94. Too many shoes on the floor, fasten a curtain rod to the inside of your closet door and hang them by their heels.
#100. Dental floss is ideal for sewing on buttons. It's stronger and will last longer than thread.
#108. Green leaves on the outside of lettuce contain more vitamins than the inside ones, so don't throw away more than necessary.
#113. When reading and mixing from an open recipe book, place a piece of clear glass or plastic over it to keep it clean.
#119. Left over scraps of floor tile or linoleum can easily be made into very nice coasters for beverage glasses.
#125. If the canary refuses to use his bath bowl, put a little sand in the bottom of the bowl. He may be afraid of the slippery bottom.
#127. Iodine will cover a scratch in mahogany furniture just fine.
#137. If the wire in your cheese cutter breaks, you can replace it with a wire violin or music string.
#144. If you need a bed tray, some ironing boards make a good substitute.
#149. Melted marshmallows make ideal toppings for cup cakes. Ten minutes before the cup cakes are finished baking, pace a marshmallow on top of each cake. When finished baking, they are covered with a delicious topping.
#156. Seldom used luggage is a good place to store blankets, if short on storage space.
#161. You can mend small tears in many curtains, by merely applying colorless nail polish.
#162. To keep plants fresh when you are away, stand them on bricks covered with water in your bath tub. The bricks will absorb enough water to keep the plants moist.
#180. A mason jar of ice cubes, if packed with your picnic lunch, will keep it cool and tasty. When ice cubes melt, you have a jar of good drinking water.
#185. Grapefruit seeds if planted thickly in rich earth about half inch deep and kept well watered, will sprout into a beautiful green center piece in about two weeks.
#193. Bake potatoes in a muffin pan. The potatoes will not move around and will be easy to remove from oven.
#195. Shoe or boot laces that lose their metal tips can be prevented from fraying at the tips with several light coats of fingernail polish. (Editor's Note: I personally just burn the tips with a lighter to fix any frayed cords, but nail polish definitely sounds like a better – and safer – option :))
#201. Those small clear glass jars with screw tops are invaluable for holding nails, tacks, screws, bolts, herbs, spices or what-have-you. If you nail the lids to the underside of shelves, they are out of the way, easy to reach and easy to see.
#221. Your house key will be easy to locate in your handbag if you tie it to a cord and the other end of the cord to the top of your handbag. Just fish it out.
#223. A finger cut from an old rubber glove and slipped over the top of your broom or mop handle will keep it from falling when leaned against the wall.
#236. For a special occasion cake, stick short pieces of macaroni into icing as vases to hold tiny flowers.
#252. A small amount of vinegar in your dishwasher will protect hands and make dishes sparkle.
#260. Envelopes attached to the inside of drawers with thumb tacks or scotch tape will hold many small items and keep the items easy to locate.
#278. Pieces of maraschino cherries, oranges, grapefruit, etc. frozen in your ice cubes will add color to your iced drinks.
#281: Store your folding summer chairs in the garment bags you get from your cleaner. It will keep them clean and dust free.
#284. When hanging a picture, mark the spot for the nail with a moistened finger; the spot will stay until you drive in the nail.
#286. You can keep neckties unwrinkled when traveling if you pack them between the pages of a magazine.
#291. To use the last bit of ketchup from a bottle, why not pour in a quantity of oil and vinegar and make a delicious salad dressing.
#293. If your medicine cabinet or shower has sliding that stick, just rub a little soap on the slides.
#299. Put a cup hook near your sink to hold your rings when washing dishes. This habit may save a precious stone from coming loose and going down the drain.
#303. Ivy leaves make unusual and attractive place setting cards for your dinner table. Write names on leaves with white ink.
************
Not too bad, right?? Anyone already doing any of these? Anyone find some good ones they think they'll try out?
I was LOVING the marshmallow one and the little macaroni vases, haha… How do you even come up with that? Accidentally drop macaronis on the cake and think – "Hey! I could put a flower in that!?"
Either way – some solid ideas and something our generation is not the best at ;)
The back cover also had some interesting items from back in the day…
Here's a snapshot of the banking ad that was attached, and whom apparently the pamphlet was made for (or in partnership with anyways – looks like there were spaces for the producer to market it to a handful of businesses which was pretty slick!)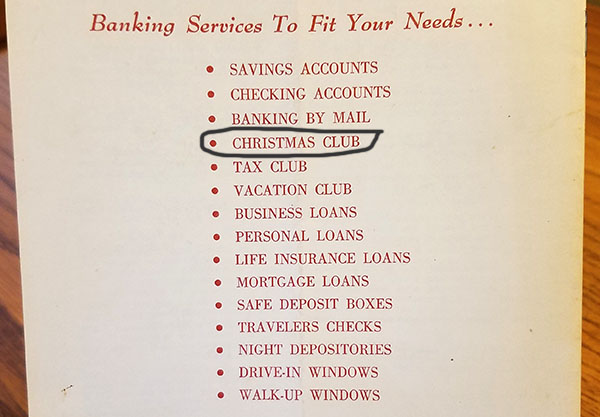 Christmas Clubs!! Those used to be all the rage back in the day! I remember a good friend telling me about them a few years back – pretty cool concept that seems to have fallen by the wayside. From Wikipedia:
The Christmas club is a savings program that was first offered by various banks and credit unions in the United States beginning in the first half of the 20th century, and including the Great Depression. The concept is that bank customers deposit a set amount of money each week into a special savings account, and receive the money back at the end of the year for Christmas shopping.
And you'll see similar ones up there too like "Vacation Club" and "Tax Club"… Though sadly no "Early Retirement Club" – yet ;)
So there you have it – a bunch of tips that would make your mother proud. Or even The Frugalwoods, for that matter! Who actually just dropped their first book yesterday: Meet the Frugalwoods: Achieving Financial Independence Through Simple Living 
Might make for a great companion piece?
But yeah – big ups to Morgan H. Wilt who published this pamphlet for us over half a century ago… Your work lives on good sir/madam – even in the digital age!!
And if anyone would like to pick up their own copy of this, here's how to do so ;)
To bringing frugality back!
******
UPDATE: Want to go back in time even more? Check out these lessons of thrift from 1875 I plucked out of another fantastic resource a few years back ;) Gotta love how relevant it all still is!
(Visited 236 times, 1 visits today)
Get blog posts automatically emailed to you!