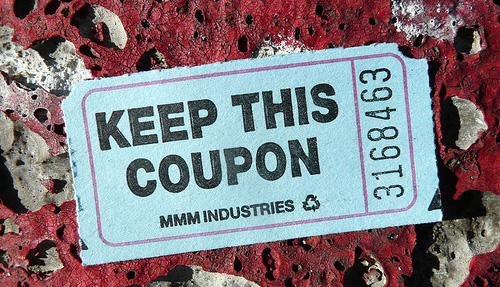 These Coupon Books intrigue me… You know the ones I'm talking about? The ones that claim to have $5,000 worth of coupons in it, yet sell for only $30? (I think they may be called Entertainment Books too). I usually get hit up by kids in the neighborhood or friends on sports teams trying to raise some extra cash, but I can't tell if they're really WORTH anything.
So half the time I end up giving in and just telling them to keep it since I know for a fact I'll just let it collect dust in the corner. And plus, that way they can probably just sell it again and make another $30 :)
But I'm wondering – do any of you actually find these useful? Do you REALLY scour through them and take full advantage of all these hundreds of coupons? I mean, they always have local restaurants and places of entertainment on there, but it still goes back to the whole "spend something to save something" mentality I've been having issues with lately.
I guess, with everything, it depends on how often you frequent these places they're pimpin'. But it would really suck if you end up shelling out a good chunk more in the long run – on top of the original $30 – just because you HAVE all these discounts at your fingertips!  It would be an interesting study, that's for sure (maybe one of you can research it for a thesis?! :))
At any rate, it always feels good supporting a friend or little wee one in whatever ventures they're workin' toward. I'll just consider it a "donation" and continue keeping my house free of clutter :)
(Excellent photo by fontplaydotcom )
(Visited 80 times, 1 visits today)
Get blog posts automatically emailed to you!