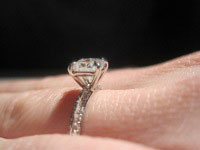 (Guest post by Jack – a fellow Budgets Are Sexy reader!)
Yes, I am talking about the exciting time of proposing to your significant other! In my case, my girlfriend of 18 months would be the happy recipient of an engagement ring and the man that comes along with that ring! :)
I don't own a lot of jewelry.  In fact, I only own 2 rings: my class ring from college and a family signet ring.  I know how much those two pieces of jewelry are worth, but I was not prepared for how much a DIAMOND ring costs!  Fortunately, I have a very sensible fiance (she said yes!) and she is not interested in marrying a broke man.  So, we were able to get the ring that she loves without breaking the bank – too much.
While we wanted to purchase a traditional diamond engagement ring, we weren't very traditional in that I wouldn't dare buy a ring for my, now fiance, without her actually picking it out herself.  If I'm going to drop a bag full of Benjamins (ok… credit card) on a sweet piece of hardware, my girl would need to be completely satisfied with it.  There is nothing more devastating to me then spending a lot of money on something for someone else, only to find out that they don't like it.  Both of us went shopping for the ring and had a lot of fun doing so while drinking the free champagne that jewelry stores give you while you're shopping. ;)
How I paid for it (without crying)
Before I continue with the story, you're probably wondering, how did I pay for this sparkly, shiny, metal and rock piece of artwork? Fortunately, I had savings!  I didn't know what I was saving up for, but I'm glad I had a good amount of savings for this financial milestone (or emergency, depending on how you look at it).  A couple of years ago, my ARM mortgage started to adjust to current interest rates.  It worked out that the rate kept adjusting *downward* and I took all of those savings and..put it right into my bank account for safe keeping.  Thank goodness for that.
But, just because I had some savings, we didn't necessarily want to spend ALL of my savings on a ring.  How did we go about shopping then?  We just went to the jewelry stores and looked for something that appealed to us without even looking at price tags at first.  Every jeweler asked us how much we were looking to spend and we simply replied, "We're just looking for something that we like."  The best strategy that worked for us was to shop for the ring first and then figure out the diamond specifics later.  The center diamond was going to account for the majority of the cost of the ring.  We found that most rings we liked, without the center diamond, ranged in price from the 1 to upper 2-thousand dollar range.  The center diamond ended up costing a few multiples of the actual ring.
We shopped at many different jewelers, form the national chain jewelers to the boutique jewelers.  It took us visits to four different stores to really narrow things down.  One particular store offered much more selection in the thinner bands that we were looking for.  So, we went back to that store and asked to move onto the next step of selecting the center diamond for the ring.  Many people know about the 4 C's of ring shopping: Clarity, Cut, Color and Carat.  These are the most important factors in diamond selection, but for those looking for some extra credit, it would help to pay attention to another set of four criterion: Depth, Table, Ratio and Girdle.  I'll leave it up to Google to discuss all of those parameters, but here is what mattered most to us: Carat and Color.
My fiance wanted to break into the 1 carat sizing of the diamond, so that is what we did. Something like 1.04 carats.  Now, this is where our financial sense kicked in.  We were willing to sacrifice on the other 3 C's to get a better price on the diamond.  If we wanted to get a diamond with near perfect Color, Clarity and Cut, we could have easily added thousands of dollars to the price tag.  We were shown a set of diamonds and ended up selecting the one diamond that had a better Color rating, but less Clarity than the other diamonds.  Our reasoning was that you can notice the better color rating with the naked eye much more than an imperfection within the diamond.
Blood Diamonds vs. Canadian Diamonds?
One more thing though, I wanted to be guaranteed that the diamond we selected would not be a "blood diamond."  There is this thing called the Kimberley Process Certification Scheme that is supposed to ensure that all diamonds are not conflict diamonds.  But, I really don't buy stock in that certification *scheme* because, well, I just think it is a scheme and I'm a bit cynical. :)  So, I shopped around.. I even found that companies were creating diamonds in machines!  I first made sure that my girl would be ok with a man-made diamond, because girls can be weird about these things. :)  So, after getting the green light, I called one of those companies up and spoke with a sales person for about 25 minutes asking questions about if the diamonds they make are the same, molecularly, as natural diamonds (they are) and if they could make white diamonds in 1 carat sizes.  Unfortunately, they can't make white diamonds in 1 carat sizes because of current technical limitations.  But, one thing the sales guy said changed my whole outlook on diamond shopping.  He said, "You should just go with a Canadian diamond until we can start making larger white diamonds."
I had no idea what he was talking about.  Canadian diamonds? I didn't even know diamonds came from Canada, but after some more Googling, I found that Canada started mining diamonds in 1998 and has a few diamond mines now.  Most importantly, Canada has the highest diamond mining labor and environmental standards in the world, which is something that I care about.  Diamonds that come from Canada are laser inscribed with a goose logo which I try to locate every time we snuggle up on the couch and watch TV, but still haven't found.  Also interesting is that Canadian diamonds have a predictable combination of Depth, Table, Ratio and Girdle characteristics and are, on average, whiter in color than African diamonds.
Voting with my money
So, back to the jewelry store, where I would be "voting with my money," I humbly requested that the jeweler present us diamonds that were sourced from Canada. Our sales rep immediately stood up and went to the back room and actually generated quite a buzz in the store about the request.  She then went over to the phone and spoke with a supplier who would ship some diamonds overnight for us to look at.  In the end, we selected a Canadian diamond and had to wait about 6 weeks for our ring to be made in platinum and have the diamond set.  It was worth the wait!
Now, we have another long wait until we finally tie the knot next year. :)
————
Who knew???  Big ups to Jack for shooting this over — my brain was fried this morning and really thought this was an interesting one.  Go Canada! :)
(Visited 6 times, 1 visits today)
Get blog posts automatically emailed to you!