As I was perusing the latest copy of Kiplinger's last night, I came across something rather shocking: Joe Biden and wife has a total net worth of only $215,000. Wow. At $300k myself it means we're beating them out by almost 50%! Wild!
They break it down in the article, which I'll get to in a bit, but the whole purpose of it all was to show that even people of high stature could benefit from paying closer attention to their money. I liked this quote a lot from it:
"They may be the most powerful couples in the world and rub shoulders with the likes of George Clooney and the Queen of England, but the Obamas and Bidens face many of the same financial challenges as the rest of us – neglect, inertia, poor diversification and spotty investments."
Now of course they're in a better position to IMPROVE their situations a lot faster than any of us common folk are – and really they're not that horrible anyways – but still. Kinda makes you feel better about not being on top of it 100%, eh? ;) Here are some problems Kiplinger sees with their setups:
Both the Obamas and Bidens have high-cost loans out right now and should be refinancing (ya know, with all the time they have, haha…). Obama has a mortgage on his old Chicago place at 5.625% interest, and Biden – while doing better in the mortgage department – has other loans out for over $65,000 in the 7.5% and 9.9% range! OUCH.
The bidens also have NINE total checking and/or savings accounts in their names too – ranging from anywhere between $1,000 to $15,000 in deposit. Perhaps it's time for some combining a bit?
As for investments, the Obamas and Bidens are on the opposite scale of things: The Obamas are far too conservative and poorly diversified, while the Bidens are too spread out (kinda like their 9 accounts too – guess it's a trademark?)
The Obamas have 92% of their money in pure cash – at around $4.7 Million (WOO!) – but only $325,000 in stocks.  And in fact, just in ONE fund: The Vanguard Index 500. If I were Vanguard I'd be using that knowledge to market the $hit out of my products! Haha.. "The president ONLY believes in OUR funds!" (And randomly enough I, too, am invested in that same Vanguard fund)
The Bidens have 6 small cash-value life insurance policies, of which they've taken loans out against between 5%-8%, and also have what appears to be a tax-sheltered annuity that's invested in 11 sub-accounts. Something Kiplinger says is the opposite of what diversification is about.
The article goes on to say a lot of this could also be stagnant due to it being an election year and what not, but at the end of the day they should still reconfigure their game plans soon. On the plus side, both parties have some great stuff going on too! (Besides ruling the country, of course):
The Obamas have between $100,000 and $200,000 in each of the girls' college savings accounts. And you'd be interested to know that they're 529 accounts!  So I guess they believe in them too :)
And the Bidens will both have pensions when it's time too: Joe with around $90,000 annually Kiplinger estimates, and his lovely wife at $32,000 which she's actually getting already.
Of course neither party really has anything to worry about for the rest of their lives anyways, at least financial-wise, but it's still rather interesting to see how they each personally do things. The real winner among them all? Mitt Romney ;) Love him or hate him, he's damn good with his money. It would be interesting to see what his net worth is now that his latest tax filings have been released. Or, I guess I can just Google it and find out haha… $250 million. That's some serious dough!
Actually, that last link reminds me – a killer site on net worths of celebrities is CelebNetWorth.com. Been checking it out the past few weeks and it's really addicting. I like to play a game called "Which celebrity am I worth more than?" Haha… I usually lose 99% of the time, but every now and then I get to feel special and beat my fists across my chest a la King Kong. (Like when I click on Gary Busey (-$500k) or Kate Gosselin (+$200k))
The point of all this today? We all need help with our money. Whether you're a famous politician or just famous to all your friends, we all need to pay attention and continually make sure we're heading in the right direction. And anyone reading these words right now as I type them are already ahead of the game – congrats ;) Not everyone cares about finance blogs! So keep it up my friends, it means you're ready to learn and take some killer action.
Now we'll see if the personal finances of these politicians will matter in the election! What do you think? Should the net worths of presidential candidates sway your political vote?

————
PS: Do your best not to turn the comments into a political bloodbath, okay? :)

(Photo credit: MCS@flickr)
(Visited 5 times, 1 visits today)
**********
PS:
If you're just getting started in your journey, here are a few good resources to help track your money. Doesn't matter which route you go, just that it ends up sticking!
If you're not a spreadsheet guy like me and prefer something more automated (which is fine, whatever gets you to take action!), you can try your hand with a free Personal Capital account instead.
Personal Capital is a cool tool that connects with your bank & investment accounts to give you an automated way to track your net worth. You'll get a crystal clear picture of how your spending and investments affect your financial goals (early retirement?), and it's super easy to use.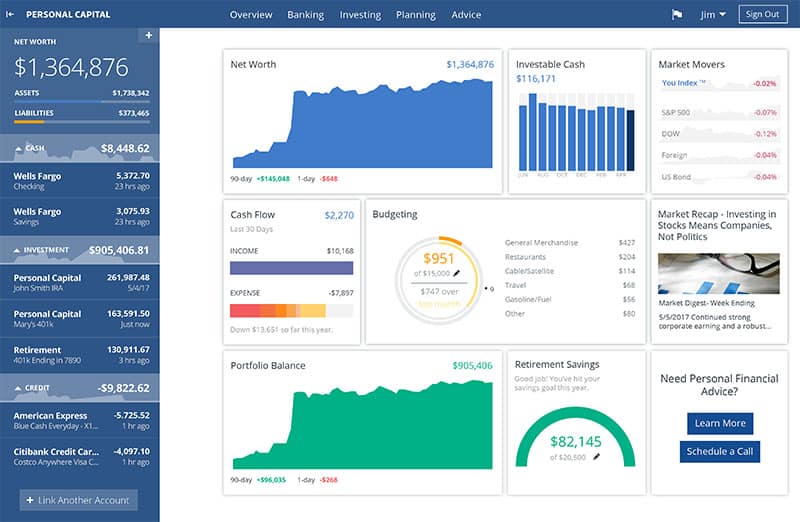 It only takes a couple minutes to set up and you can grab your free account here. They also do a lot of other cool stuff as well which my early retired friend Justin covers in our full review of Personal Capital - check it out here: Why I Use Personal Capital Almost Every Single Day.
(There's also Mint.com too btw which is also free and automated, but its more focused on day-to-day budgeting rather than long-term net worth building)
Get blog posts automatically emailed to you!