I just did something exhilarating, and I'm pretty sure half of you are going to unsubscribe from this blog as soon as you hear about it ;)
But before you do, please join me in saying goodbye to one of the best cars I've ever owned – Frankencaddy! Such a fun car to drive over these past 8+ years, and one I really wasn't expecting to give up just a few weeks ago… (nor that she'd earn us over $2,000 through her ownership either!) But alas change waits for no one, and today we say our goodbyes and wish our dear friend good luck.
You will be missed, buddy!!
Thanks for all your service, and especially the NO CAR PAYMENTS!
You were the best $3,100 I ever spent!!!
And in true fashion she'll continue to pay it forward as she moves on to the auction blocks to help benefit the National Veterans Services Fund – an organization close to my father as a proud Marine himself (OORAH!). (And it doesn't hurt getting the charitable write off either ;))
Here's a shot of them taking her away as I quivered inside my house, boo hoo….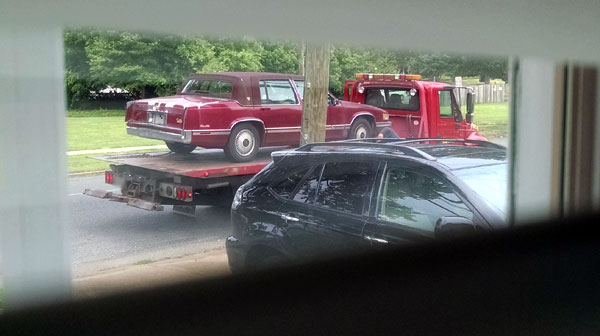 (I considered trading her in or selling her outright, but figured the money wouldn't be that drastic so better to go towards the greater good, especially since we're on time constraints)

So what will we drive now as we head on north for greener pastures? Well, to those of you who told me to "ruck up" and get a minivan, I'm afraid to say we did not go that route though we did consider a few, and for those who recommended a larger sedan car instead, we didn't get one of those either.
After hours of research and test-driving, and just really looking for one that STOOD OUT to us, we ended up going with an SUV! Woo! Which I'll admit I was pretty partial to when starting out this search ;)
We'll see if this choice proves fruitful, but I'm hoping to be able to emulate this guy's words as the future unfolds!
"My life completely changed when I got an SUV. It was like a breath of fresh air, I got mine almost 3 years ago and I still smile almost every time I get in it and am so thankful to have the extra space. It just makes life so much more convenient with kids. 100% worth it."
The minivan would have been a lot more convenient, of course, (and I promised my wife the next car WILL be a minivan – as soon as her car dies :)), but at the end of the day I just couldn't get excited about it and anyone who knows me knows I prioritize happiness over practicality. If I didn't, Frankencaddy would have never entered my life (do you know how much gas that thing sucked up?), nor would this blog have ever seen the light of day either.
And that would make you look pretty silly right now staring into a blank screen ;)
So true to other places I spend my money, I ended up putting it towards the car that brings me the most joy vs that which just "gets the job done." Even if it makes me a bad $$$ blogger…

Here's a list of all the cars I've owned over my lifetime actually. You'll see it swaps back and forth from cheap to expensive and then cheap to expensive again – I'm an equal opportunity buyer!
'93 Geo Tracker – $2,000 – A fun (convertible) car to drive around, esp. as your first!
'88 Honda Prelude – $3,000(?) – A faster, sleeker car to drive
'01 Ford Mustang – $10,000 – An even faster car, though it was obnoxiously yellow (hah)
'93 Cadillac DeVille – $4,000 – When I wanted comfort and no payments, over speed
'05 Toyota Highlander – $23,000 – When I inflated my lifestyle just a wee too much!
'93 "Frankencaddy" DeVille – $3,100 – When I realized I'm just as happy with a hoopty as a nicer car
That last line sums up my feelings perfectly – I go for happiness over price (though of course it's always a consideration). I only wish hoopties were better known for their safety and reliability as they make poor choices for driving kids around :( Which is the whole reason we're needing to upgrade right now, harumph…
Anyways, enough rambling.
What did we end up getting? Well, a car that's probably just as shocking to you as it was to us :)
Introducing, our new Lexus RX350!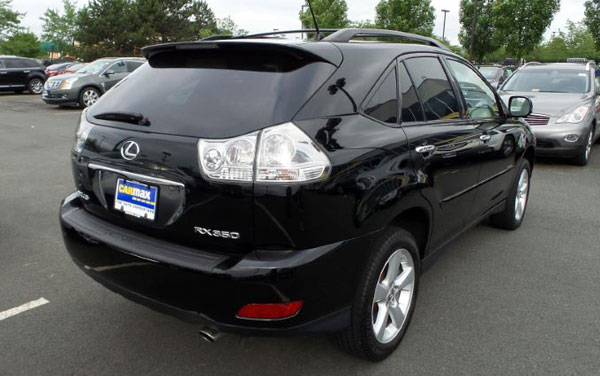 And by "new" I mean "2008" as there's no way you'll catch me spending $40,000 for one, haha… But it sure looks new doesn't it? Before my kids get to it at least? ;)

Here's the rundown of why we chose it:

It felt damn good to be in!
It's super safe and reliable (Toyota makes them)
My wife LOVED it, which she never does (a car is just a car, right?)
They hold their re-sale value like a champ
They're highly rated across the industry
It has relatively low mileage for an '08 (77,000)
Has only been owned by 1 person
Has the extra space we were looking for, but not so much where it feels like we're driving a beast
Has some nice upgrades (heated seats, 6 CD changer, AWD, sunroof)
And most importantly, was shockingly priced within our budget ($15,000-$20,000)
Before taxes, titling and the extended warranty we picked up (*gasp*), it came out to $17,998. With everything it was $21,079.10. We ended up putting $2,000 cash down for it, and then financed the remaining $19,079.10 @ 3.45% giving us monthly payments of around $340. Which we plan on paying off wayyyy before the 5 year mark, and possibly within two.
It's definitely weird to have debt again, and especially car debt since it's been a solid 8 years without it!, but it's nothing we haven't conquered before and will just motivate us to get rid of it that much faster… Though I am nervous about running our next net worth report :) That Brexit is already rilin' it up! (How bad do you wish you had a pile of cash to throw at the markets right now?? Everything's on sale!!)
We of course didn't set out to pick up a luxury car, but after peeking at the Lexus in between test drives we realized that the right year/mileage combo was actually comparable in price to its non-luxury counterparts. Which were all going for $15,000-$23,000 with 40,000-50,000 miles on them. (We were only interested in used cars)
So it ended up becoming a decision of a newer more practical car with less miles, or a slightly older – more luxurious – one with extra miles. And you now know which one we picked ;)
There are some cons to it though, of course:
The gas mileage of the RX350 isn't the greatest at 17 / 22 (we got the all wheel drive)
Our insurance went up by $30/mo, though as to be expected when upgrading from a 20 year old no coverage car to an SUV, haha… Interestingly enough it cost almost the same to insure our Corolla!
The model we picked didn't have all the super upgrades as these cars typically do (no navigation, bluetooth, DVD, back-up camera), though it does have leather which I'm hoping is easier to clean with kids making messes vs cloth?
Because the mileage is higher we didn't feel as comfortable without picking up an extended warranty, especially it being a luxury car. That ran us an extra $1,800 which we probably wouldn't have gotten with a standard SUV (it'll protect all major parts up to 125,000 or 4 years whichever comes first, with a $300 deductible).
It's a little TOO shiny for my taste, but gonna have to get used to messes with the kids in 'em!
And lastly, the stereo isn't as nice as you'd think it would be in a car like this… Though in comparison to having *no* radio like in my last car (it died 6 months ago), I can hardly complain ;) I will say that it was quite nice just listening to your own thoughts while rollin' around town though! You should try it if you're looking for a new experiment!
So some pros, and some cons… You can find a full professional review of the RX here if interested: https://cars.usnews.com/cars-trucks/lexus/rx-350/2008
Oh! We also ended up going through Carmax which I'd never tried before!  I typically like going through private parties since you can get them cheaper, but with time not being on our side (and not initially knowing what we wanted to get yet) we decided to give Carmax a visit and were pleasantly surprised.
Here are a few notes on them, with one major factor to watch out for!
Their customer service was incredible
It was AWESOME being able to walk around and not be pressured by salesmen 24/7! (They all get paid the same whether you pick up a Kia or a Benz)
Their inventory was pretty expansive, especially since you can xfer over cars (for free) from neighboring lots (which is what we ended up doing once we settled on the model we wanted)
Everything is super easy and streamlined!
All cars have to pass a 125+ point quality inspection
They come with free vehicle history and safety recall reports, a 5-day money-back guarantee, and a 30-day limited warranty
There's absolutely NO HAGGLING, which could be good or bad depending (see below)
The downside? The cars come with a premium. Worth it to those who don't want the added stress in their lives, but you'll typically pay on the higher end of the spectrum for them. The trick is watching out for those that are severely overpriced! The first RX we liked was a mind boggling $5,000 over, whereas some of the minivans were $2,000-$3,000 more than you'd expect. On average though, it seemed the mark up was anywhere from $0-$2,000 on them. So you can def. pay for those perks.
The point: just make sure to do your research before driving one off the lot! We used Kbb.com, Edmunds.com, and then TrueCar.com to look them up, and we searched all the nearest lots until we found one that was reasonable. It seemed Carmax followed True Car more than the others too fwiw (I'd never heard of them before until I noticed USAA partners with them).
Anyways, it's only been a few days but so far we're really enjoying it! And hopefully it'll treat us well over the years as we plan on keeping it for the long haul…

So that's that! Two major items down now (home and car), with two more left before the big move (childcare and packing). If I didn't know we were about to inherit a $50,000 salary next month, I'd be freaking out a little with all these extra costs, ugh… I don't know how people do it??
Hope stuff with your life/wallets are going well! Anyone else pick up a new car recently? What are you and your family driving??
It was fun seeing how much y'all pay for rent/mortgage last week (check the comments), so now let's see how drastic or not your rides are! :)
**********
PS: For all new people here, my life usually isn't this crazy I swear… My wife just happened to get a job for the first time in 7 years (after earning her PHD), and we're now scrambling to adjust as we pack up and move north to DC for it… Very exciting stuff, but also making our finances wonky!
(Visited 49 times, 1 visits today)
Get blog posts automatically emailed to you!