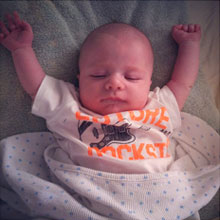 Looks like we've spent an additional $869.42 on el bebe since our last update a month and a half ago, jeez… And that doesn't even count any of the hospital bills for when he was birthed!
But I should have those numbers here shortly – still waiting for 1 or 2 more things to come in and I'll add 'em all up and see what our TRUE costs were vs. what they're billing our insurance… and a damn good thing we were on top of all that stuff too, or we'd be in deep doo-doo having to pay all those bills ourselves!  Man, what a racket…
Other interesting things since our last update on Baby J:
He now recognizes his mom and dad :)
He talks coos and smiles all over the place!
He's mesmerized by our couch cushions (??)
He's less than 2 months old, yet fits in 3-6 months clothes!
He one time slept for 5 hours at night, setting a new world record
We've had zero scares since those debacles 6 weeks ago ;)
He hates Pawn Stars, but LOVES The Wire! Even though we cringe when he hears cursing :( And then feel like bad parents for not turning it off! (It's sooooo good though, we just started season 4!) When do kids start understanding all this stuff anyways?
We're now gonna start breast pumping so Dad can help out more at night.
We have a hard time not talking about him all the time, but refuse to be "those" people!
And I officially became a dad when I said (I kid you not), "He'll poke his eye out with that thing!" in response to giving him a slingshot later… Wow.
UPDATE: Last night was the first time Baby $ slept in his room alone! WOOHOO!!
You can see our entire costs so far from pregnancy and beyond here: Ultimate Baby Costs Tracker. And I'll continue giving you lovely updates about him as time goes on too ;) 11 months in and 17 more years to go! Haha… then we FINALLY get to see the true costs of having a kid this whole time – should be interesting… Anyone want to make any predictions?
Happy Weekend all :) Start saving now if you'll be making your *own* babies this weekend!
———-
PS: That portrait up there is titled "Don't Shoot!"
(Visited 5 times, 1 visits today)
Get blog posts automatically emailed to you!