Goooood Friday, everyone! How'd the week treat you and your money over there? Still on that path to financial freedom? Still telling all of your friends and lovers how awesome my blog is and that if they don't read it they're not cool??
Awww, you're too kind :)
Though I hope none of them work at Capital One because I'm about to say some not-so-nice things about them… Specifically, 3 ways to NOT treat their customers:
Send them a letter telling them they need to come into the branch to "update their records", only to then waste their time for 30 minutes wondering why that letter was sent to you in the first place. (Not one person at the branch knew what the letter was about, nor their internal customer service person in which they conferred with… According to one of the tellers there, "this stuff happens all the time")
Tell you what other business account users are able to do with their accounts, and then when you ask for the ability to do the same – deny you. (One of the best things Capital One has done lately is add a "deposit via phone" option so us hustlers don't have to go to the branch to deposit checks every other day. I won't fault them being 6 years late to the game here (USAA was the first – booyah!), but I will for telling me all about how other businesses have been able to increase their monthly deposit limits to $15,000 and $25,000, when for some reason I can't up mine from $5,000. Even while there in the flesh trying to get a straight answer… They literally tell me it may or may not happen one day, and that I'll just "have to wait and see." Gee, thanks…)
Up sell you on new products after not accomplishing a single thing you set out to do. I get that we can't always get what we want as customers – whether we think it's fair or not – but the worst time to try and get us to sign up to more products is when we're unhappy. Specifically at you!
This is why I love my online banks…. They get how to treat their customers! And why I swear if USAA or Ally or Simple ever go into the business account world they'd blow up even more.
I will admit to having a tiny bit of fun though while waiting there and biting my tongue… In one of the pamphlets they gave me on "specials" going on, I came across this gem I felt the world needed to see ;)
What a deal!!!!!
In other (more exciting) money news….
1) It's 529 Day! WOO! Whip out your college savings calculators and get ready to partyyyyy!!!! Haha… Everyone's doing it! But seriously though, it's 529 day. A perfect time to see if your college savings game plans are in tact as much as your millionaire one from rockin' Millionaire Day.
We're personally dumping in money sporadically until our lives get a bit settled here (ie. the wife enters the work force again and we figure out where we're going to be living), but by investing what we can, as well as putting all the kid's cash gifts in their accounts, we've been able to bank $4,000+ for one bambino and $5,000+ for the other. And since we stick with our state's 529 plans, we get some nice tax benefits too! It's a beautiful thing!
(If you have no idea what any of this means, and would like to, check out savingforcollege.com's 529 College Savings Day webinar today @ 1pm EST. It's totally free, and they'll be going over all the commonly asked questions as well as answering those asked by people attending too.)
2) Digit saved me an additional $10.19 this week (making a total of $911.73 in 5 months!). And speaking of Digit, they finally added a new feature a lot of us have wanted: the ability to keep their robot hands away from a set amount of money in our checking account! Like if you need to keep a certain balance in there to not get dinged a fee by your (traditional) bank, or if you just like keeping some padding in there so you don't bounce anything in case you do something stupid (like me). You just have to text  "checking minimum" to put this into action, and they'll then ask you how much you want to keep off-limits. I just did it for $500 and it took 3 seconds.
3) Acorns invested an additional $5.28 for me (making a total of $195.88 in 2 months)
The 2nd best picture I've seen all week:
Look who John Schmoll from Frugal Rules ran into!!! Warren Freakin' Buffett and Mark Bad Ass Cuban! At a Diary Queen no less! Man oh man am I jealous… Can you imagine just being there doing your thing when these two walk in?? What would you say? What would you do? (Besides ask for a pic of course :)). I'd do exactly what John did next:
The best comment left on my blog this week:
On an oldie but goody: Proof You Can Live off 50% of Your Income
I have recently made the switch to living on my husband's (lower) income and using mine to put towards our substantial debt. We had to work through how to budget for everything to fit into his income, but where a few short months ago we were living paycheck to paycheck with both incomes, now we are free falling down the debt mountain and it feels amazing! – Saving Sanely
And… the worst comment left on my blog this week:
On this old – yet incredibly popular for some reason? – post: Guess What? If Someone Accidentally Gives You Money in Your Account, It's Still NOT Your Money.
"Ha they put 4 grand in my account today and I spent every last penny I needed it…. sometimes life throws you lemons but when it throws you 4 grand you take that shit."
Just… wow.
I got a new coin in my collection!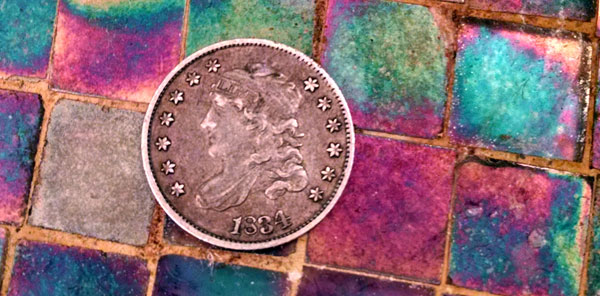 An 1834 "Capped Bust" half dime… before we had nickels or old men on our coins ;) If "busts" don't excite you to get into coin collecting, I don't know what will…
[Update: My podcast w/ Stacking Benjamins on coin collecting just dropped this morning if interested]
A couple of financial companies I got reacquainted with:

Swagbucks — If you read a lot of frugality/hustle blogs you've probably head of these guys before, but they tout themselves as "the largest free online rewards program." And similarly to eBates, a ton of financial bloggers rave about them (there's a whole compilation of eBates reviews here). Though oddly I always forget to mention them? (I literally did a search on my blog for when the last time I did, and it was in 2009 on one of my old blogger vs blogger showdowns where they made fun of me for not using them! Hah!). I actually do think they're legit, I just don't do many surveys or online games/etc. Though I do Google a hell of a lot… and apparently you can rack up points/cash by just searching through them instead. Anyways, if you're interested in checking them out, you'll get $5.00 for signing up. Let me know if you use/like them!
Qapital — "The everyday banking app that helps you save small to live large. Set up financial goals, create rules, then sit back and watch your savings grow." These guys reached out to me when they saw I was talking about Digit a few months back, and proclaim they're "better, even easier, and a more fun way to save for the things you want." HAH! I don't know about all that, but they are trying to give Mint.com a run for their money which is always fun to see… So if you're not a Mint lover and looking for something different to try, perhaps Qapital is your jam?
And lastly, a product from Capital One I would actually sign up for!
[More on these BFF and Wingman cards here]
That's it for this week, friends… Remember, keep your enemies close, and your wallets even closer!
——
Awesome UVA shot by BobMical
(Visited 10 times, 1 visits today)
Get blog posts automatically emailed to you!