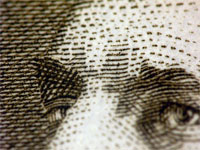 A fellow reader just asked me this, and I thought I'd respond here instead of emailing her back. I'm not too sure my opinions are necessarily right here, so I'm relying on you all to help get the discussion going :)
Can you have too many financial goals? I say yes and no. As well as "it depends." Haha… you knew it wasn't going to be so cut & dry, right? Just like many things in personal finance, there are a slew of variables that need to be answered first:
How many goals are we talking?

3? 10? I know personally I'm only good at managing 4-5 TOPS. My ideal # would be 3. Just enough to get a lot accomplished, while at the same time not over-extending myself and diverting my hard-to-keep attention elsewhere.

What type of goals are we working with?

Long term? Short term? Both long and short? (that's what she said!) Most of us have a ton of goals on our minds at any given moment – the trick is narrowing them down to actionable events. You can do this by pay period, or by week or even day, but whichever you choose just make sure to give all your dollars a purpose. I like to always be working on at least 1 short term goal, and 2 longer term goals at a time (there are also mid-range goals and today-or-never type goals, but for the sake of me writing a novel here we'll stick with just the two above), and each one is assigned a chunk of my money every 2 weeks.

Are you an efficient multi-tasker?

Or do you have major A.D.H.D. like me and struggle? Knowing how you work is an important factor as it's really going to affect your success or not. This also comes into play as far as what you ENJOY doing more than the other. Some people prefer to pay off all their debt first, where as others (like me) prefer to have more savings in the bank. It's all about listening to your preferences.

How much money do you have to work with?

Obviously, the more you have the more goals you can knock off faster. So hopefully one of your financial goals is to find a way to bring in some extra revenue ;) Maybe that's getting a promotion at work, or doing a little hustlin' on the side. Just like with everything else, the more money you have the more options you have to play with.
Here are all the goals I'm working on. Keep in mind though that a) I have a hard time thinking way into the future (and thus plan year-by-year usually), and b) I'm hardcore about saving. So I may not be a perfect example here ;) Anyways, here's what we've got:
Goal #1 (Long Term):

Max out my 401(k) this year. Again, long term for me is 1 year so it'll probably be categorized differently for you, although 401(k) does = "retirement"

Goal #2 (Long Term):

Max out my Roth IRA this year.

Goal #3 (Short Term):

Pay off our latest credit card debt. This is kind of a fluke right now considering we just got the debt last month, and it'll be paid off by this month (tax refund, baby!) but it is on the docket. Usually our short term goal is to throw all our extra money into savings after all our bills/goals are taken care of. This includes blog money, contracting money, paycheck money (not that there's anything here due to goals #1 and #2), and whatever else comes our way. It's not really specific, but it works.

Goal #4 (Long Term):

Max out the Mrs' Roth IRA, but only after Goals #1-3 are taken care of.
That's pretty much it right now. As you can see, we mostly only have major things on the list – and they're all related to saving :) That doesn't mean we don't ever splurge or have fun or anything, but just that most of that fun is already built into our monthly budget. All of these goals have to do with our "extras" outside of the bills, and while we're bringing in decent income. Who knows when it'll end?
How about you all? How many goals are you all workin' on? Do YOU think there's a limit on the # of goals to work on? Drop some knowledge in the comments and help your fellow reader out :)
(Photo by kevindooley)
(Visited 6 times, 1 visits today)
Get blog posts automatically emailed to you!