Remember our friend Vee who set out to hustle her way to $10,000 come Christmas? Through secret shopping and selling all kinds of books, designer clothes/shoes/handbags, and even her JUNK MAIL?? Haha…
Well, she's back :)
Last time we chatted with her she was up $4,100 with two months to go. Think she made it?
What UP, J. Money! Happy New Year! It's me, Lil' VEE – I just wanted to give you an update on how I did with the $10K challenge during the Chrsitmas holiday now that the holiday crazies are over!

Bottom line is that I was up $8,200 and change on Christmas day, but I would have definitely hit my mark had I known at the beginning of my challenge what I know now.

You may remember that I had a TON of clothes that I sold online through twice.com and local consignment shops. Big mistake. Consigning designer clothes, shoes and bags is a racket – resellers are making hand over fist and I learned how the hard way… they buy your stuff for pennies on the dollar and resell them for about 50 cents on the dollar. Everyone wins but the seller. In December, I found a site for consigning clothes that I wish I had known of at the start – tradesy.com

Tradesy takes a 9% commission from sellers and they take care of the buyer payment, shipping, and returns – no dealing directly with buyers, no dealing with scammers on ebay, and no meeting strangers in parking lots like Craigslist (really, J. Money… have you never watched Law & Order??). I used Tradesy to sell a full length mink coat (hey – no judgement) that I'd had real issues selling for the entirety of the challenge. I wanted $400 for the coat and got an offer from a furrier in NYC for $150 flat and a local consignment shop for 40% of whatever it brought in (which would have been pretty dismal since everytime I wear it in my uber-hippie town people look at me like I kicked a toddler). I listed it on tradesy and had an offer about two weeks later for the full amount. Pop-POP!!

That is what put me over the $8K mark by Christmas. If I had sold even half of my clothing, bags and shoes through Tradesy from the get-go, I would have easily pocketed over $10K in the challenge. Expensive lesson.

The biggest learn from the challenge was how it changed the way I spent money during the super-spendy holiday season. Busting my a$$ to make 20 bucks off a coupon really made me rethink the frilly $20 cocktail.

Opening a new account in which I could deposit my savings was key (a lesson I learned from you). Because I lack the discipline to not touch the cash, I opened a new account online with Capitol One 360. Without this, I would have transferred the money to my regular account. Watching the cash build up was awesome and I felt like I really accomplished something big. Everyone I told about it was likewise stoked, and it made for amazing water-cooler conversation.

And what did I spend all my mad money on? DEBT! Pop-POP, J. Money – Lil' Vee is in the BLACK! Awww-yeah!!

BIG thanks to all your blog-peeps who kept me motivated to push the envelope and keep on keepin' on. You have the best fan-fam on the interweb.

I'm definitely going to do this again in September, although I am loathe to buy anything that I think will end up hustled in the challenge. This challenge taught me A LOT about my spending habits and the truth was super-ugly but absolutely necessary.

Hopefully, your fan-fam can learn from my mistakes – someone should!

Word,
Lil VEE
Vee – you deserve our Sexy Saver Award. Print this bad boy off and put it on your fridge!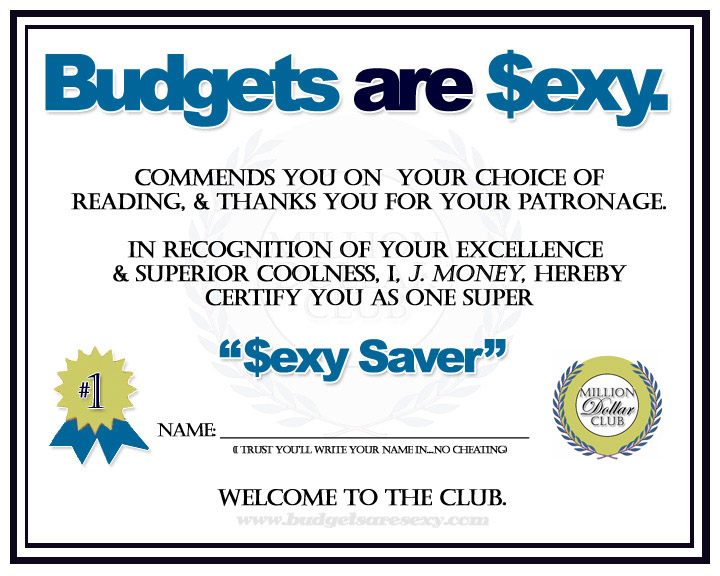 What a firecracker that one, haha… Always keeping it real.
So many lessons in here it's crazy…
Here's everything I caught:
Always keep your eyes open for alternatives
Don't meet strangers in parking lots (hey! I'm still alive, aren't I? ;))
Don't buy fur coats (you pick on me, I pick on you Vee!)
Busting your ass to make money helps you to SPEND LESS OF IT
Putting it all into a *separate* account helps you not to touch it.
When it is time to touch it, it's best to apply it towards an important goal of yours – like debt!
Getting rid of your stuff makes you realize you shouldn't have bought 1/2 of it to begin with
And of course, TELLING EVERYONE of your goals to hold yourself accountable! And hopefully gaining extra motivation if you have a great "fan-fam" as Vee likes to call all of y'all, haha…
If this doesn't motivate you to get to hustling, I don't know what will. This chick made $8,000 in a matter of months – who does that?? And then involves all her friends? The power of a single goal, I tell you… Gotta go all in and fight for what you want. Ain't no one gonna do it for you!
Here's the original article on her again here. A GREAT read that gets into why she set up this $10k challenge to begin with, and details on all the hustles she jumped into like her book selling stuff and the junk mail idea – something I didn't even know could be turned into cash??
A.B.H. baby. Always be hustlin'.
——
[Money cat by Marissa / Commentary by J$]
(Visited 16 times, 1 visits today)
Get blog posts automatically emailed to you!